For all the beautiful artwork, decor and gorgeous soft furnishings we might buy for our homes, there's nothing like displaying houseplants. For some, just one large plant in the corner creates a statement. For others, houseplants can become somewhat of an obsession. Particularly, when your houseplants start to propagate.
The botanical look will always be in style and there are many benefits of houseplants beyond aesthetics. They improve the air quality and have been proven to promote well-being and help reduce stress. Since humankind first began building shelters, we've been compelled to bring nature into our homes. Sometimes though, the desire for plants can override the practicalities of space. However, when you start running out of shelf and bookcase space, or those plants start outgrowing their given homes, there are still many ways to get creative in ways of displaying houseplants.
Here are some of our best ideas for displaying houseplants, for both those who already have plants and for those considering becoming plant people. We'll also give you a few ideas for types of plants to invest in and how they can add different qualities to a space.
Macrame Hanging For Houseplants
Plant lovers tend to run out of shelf space for greenery. In smaller homes, or for those with a minimalist style, it can be tricky to find room for displaying houseplants, especially when they grow taller or start cascading. We thought it was what we wanted but we find they no longer fit on our bookshelves and the draping leaves are getting in the way of cupboard doors and draws below. Hanging your plants can be a perfect solution.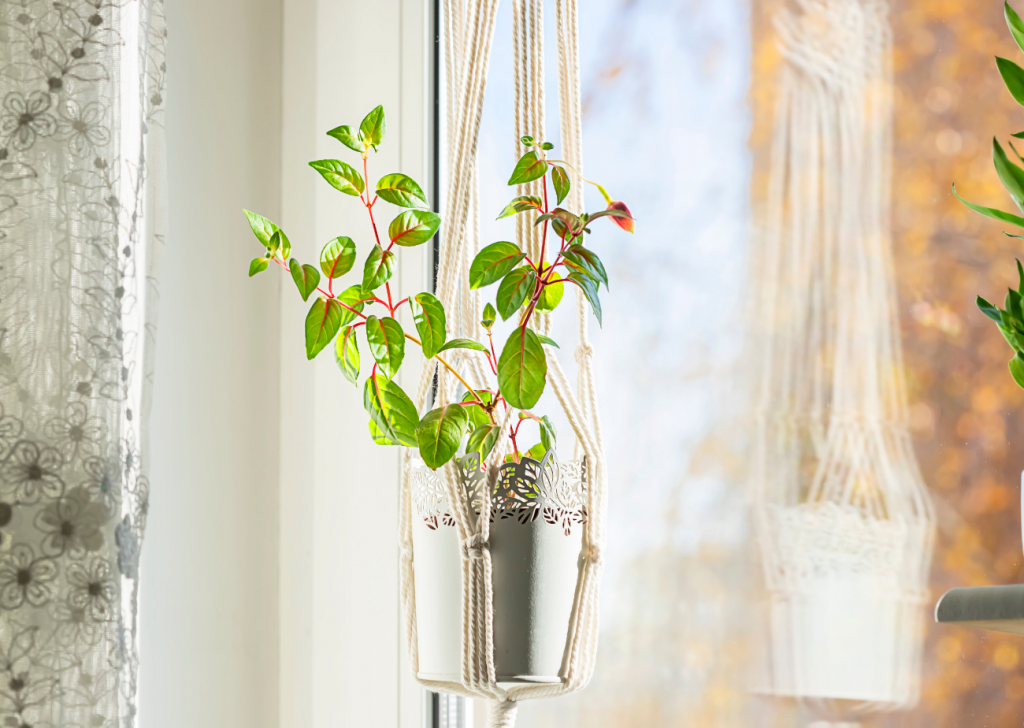 Although a classic boho look, hanging plants suit every home. Adding a splash of greenery at different levels throughout the home can bring a touch of the natural world indoors. A trending way to hang plants is with macrame. Macrame plant hangers are available to buy or, if you have a little patience and enjoy creative endeavours, then they are fairly simple to make yourself. Check out the wide range of videos on how to make macrame plant hangers.
Of course, if macrame is not your style then there are other plant hangers available. Most of which come with pots already.
Air Plants
There is some debate as to how low maintenance air plants really are. On one hand, they can be displayed almost anywhere and since they don't need soil they are similar to cacti. However, they do need water and plenty of indirect sunlight. In fact, misting them is ideal and the reason why they can so often be found in bathrooms where the humidity helps them to thrive.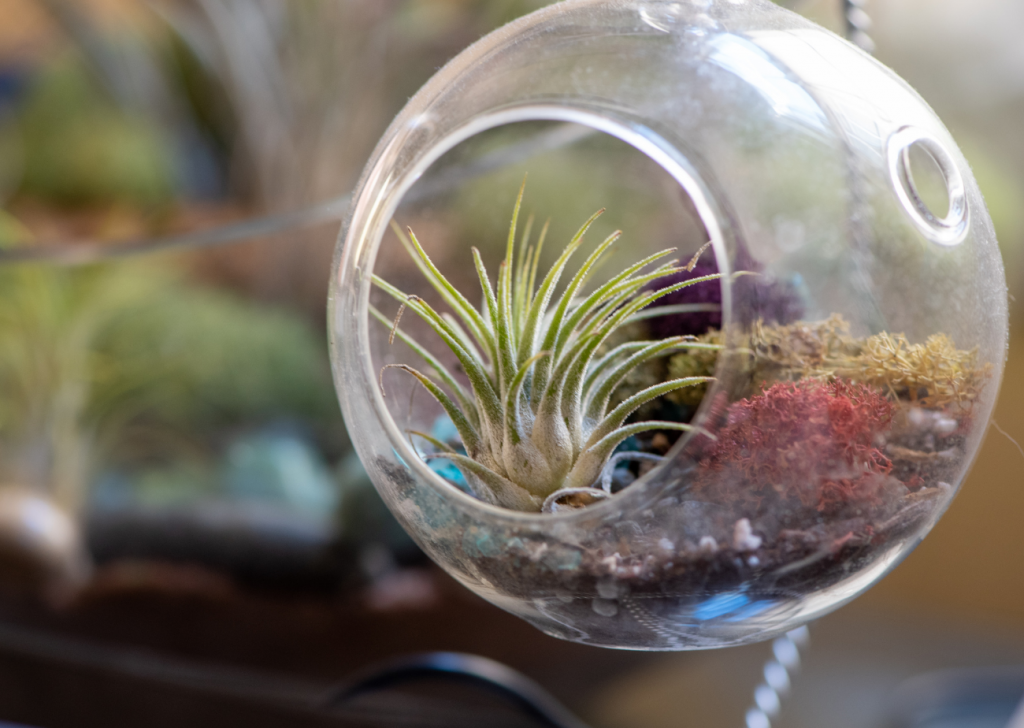 Glass cases and terrariums are a popular way to display air plants because they can be staged with all sorts of accessories, such as pebbles, gemstones and shells. However, ensure that you can easily access the plants to mist weekly. You'll also need to remove them every few weeks and give them a soak in some water for a while. When looking after air plants, you're basically trying to recreate the rainforest climate.
Air plants don't tend to be large so can be added almost anywhere. They can be hung on decorative macrame ropes, placed poking out of centrepieces, added to strings of fairy lights or tacked onto wall frames. Some even choose to create a feature wall since there is no need for planting. Magnets can be used to secure air plants to metal frames and wires – just avoid copper as it can poison your plants.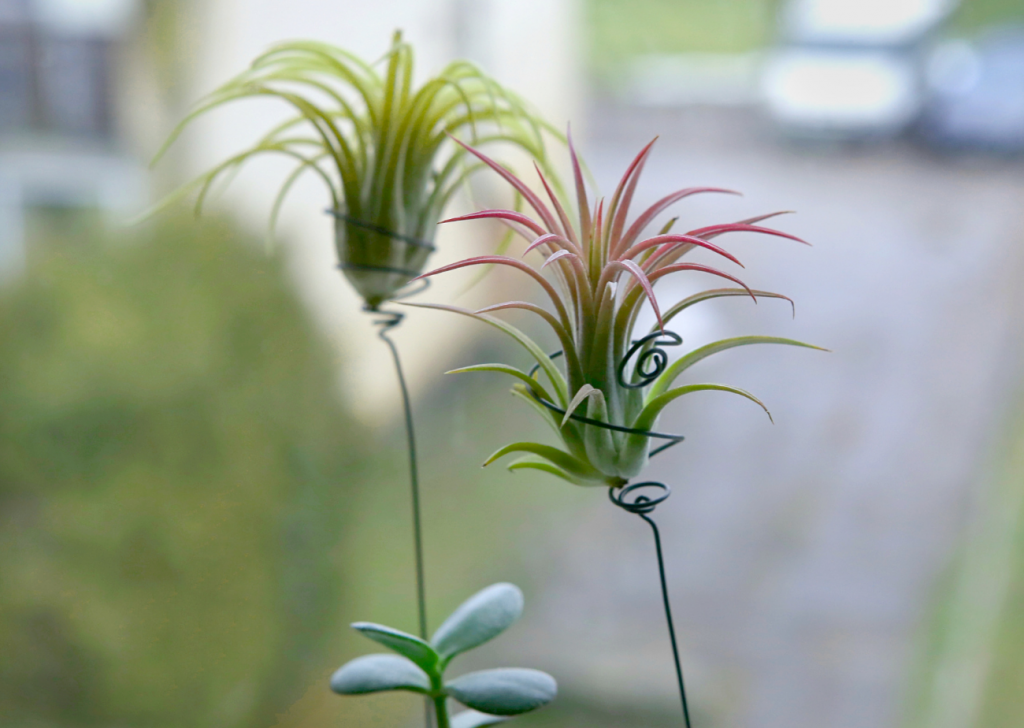 Cactus Collections
If you're not naturally green-fingered, or simply take no pleasure in the caretaking of plants but still love indoor nature, then a cactus collection might be the right option for you. These plants look great together because so many different varieties are available and visually they really benefit from being grouped. Cactus plants offer different textures, shapes and some even flower. They need very little care and are as beneficial in terms of improving air quality indoors and promoting wellbeing as any other plant. In addition, because you don't need a lot of soil you can make your pots more interesting with pebbles and even glass beads, which can be a more interesting way of displaying houseplants.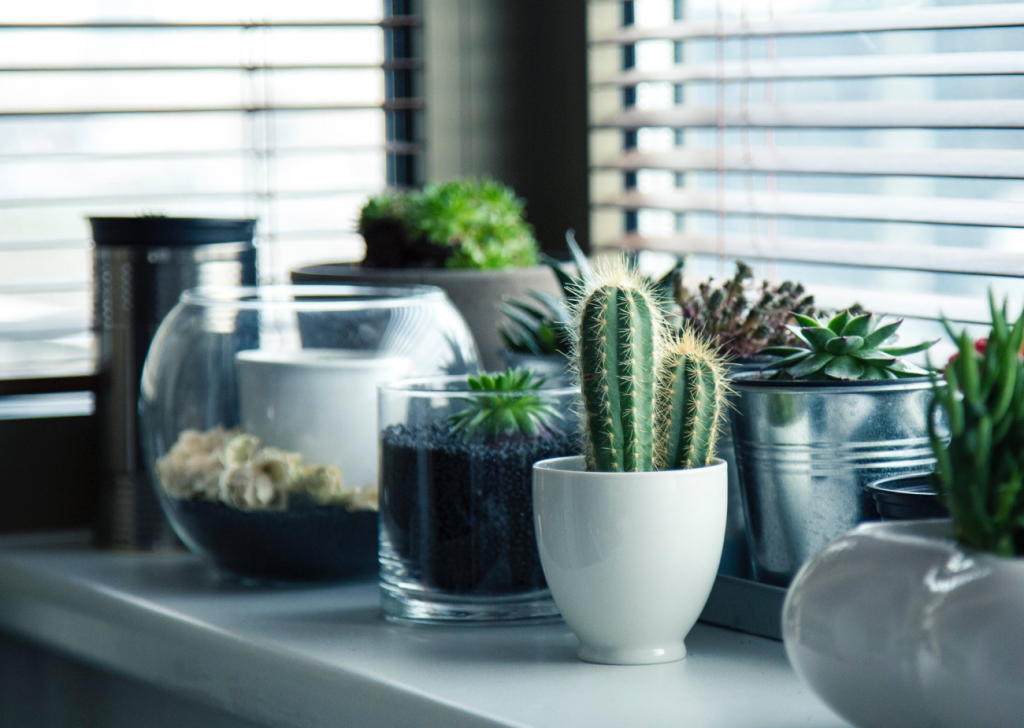 Succulents are equally tough and need minimal care. Some even take care of you. Aloe Vera, for example, is a great plant to have in the home due to its healing properties. The cool gel from inside the plant can be applied directly to ease skin irritation or burns.

Succulents and Cacti look beautiful in the home and offer variety. Plus, because they tend to be smaller you can pot them in almost anything – chipped cups, old candle holders, jam jars and all sorts of other items that might otherwise be thrown out.
Kitchen Herb Gardens
Kitchen herb gardens are so idyllic. Not only can they be used in flavouring food but they have a lovely scent. Rosemary can be added to roast potatoes, basil is wonderful for making pesto, parsley can lift a salad and mint is beautifully refreshing when added to drinks. There are also many other herbs perfect for soups, salads, stews, pasta, risotto and all sorts of other dishes. Some herbs are easier to grow than others. Mint and basil are notoriously easy whilst coriander can be challenging. They are also seasonal plants so you may still find you have to resort to supermarket packets occasionally.
A windowsill herb garden does more than add flavour to your food. They add greenery, fragrance and oxygen. You can re-pot growing herbs bought from the supermarket, although their survival rate is hit and miss. Or, you can buy smaller herb plants from the garden centre or plant from seed which is the most cost-effective way. There are even herb garden planter kits, which make it even easier for starters and make excellent presents, especially housewarming gifts.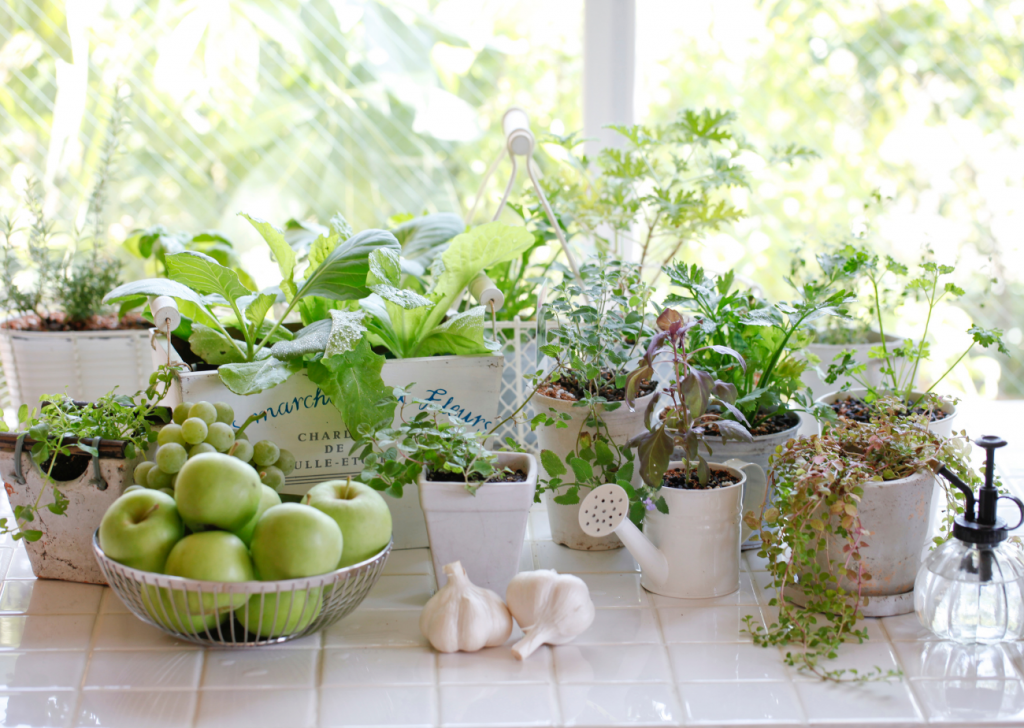 Displaying houseplants of all kinds is good for well-being and brings many benefits to the home. Herbs are particularly beneficial because they are also useful. Yet, don't underestimate the sense of tranquillity and purification they can bring into the kitchen too, promoting feelings of healthiness and earthliness.
Looking for a domestic cleaner? We have in cleaning teams available in Cheltenham, Bishop's Stortford, Winchester, Fleet, Farnham, Alton, Milton Keynes and Guildford and Godalming, please get in touch with Haus Maids.