I'm starting to believe that people fall into one of two categories – those who love styling a bed with multiple pillows, decorative cushions and throws and those who think all of that is pointless. The latter kind is right of course – a bed needs only a duvet and pillow technically – but still, there's something so inviting about a stylish, texturised bedspread covered in soft furnishings. A bed elevated with plush pillows, pouffes and velvety blankets makes for a striking centrepiece. Plus, how you style a bed is an expression of your taste, with some going glam, others boho and some modern.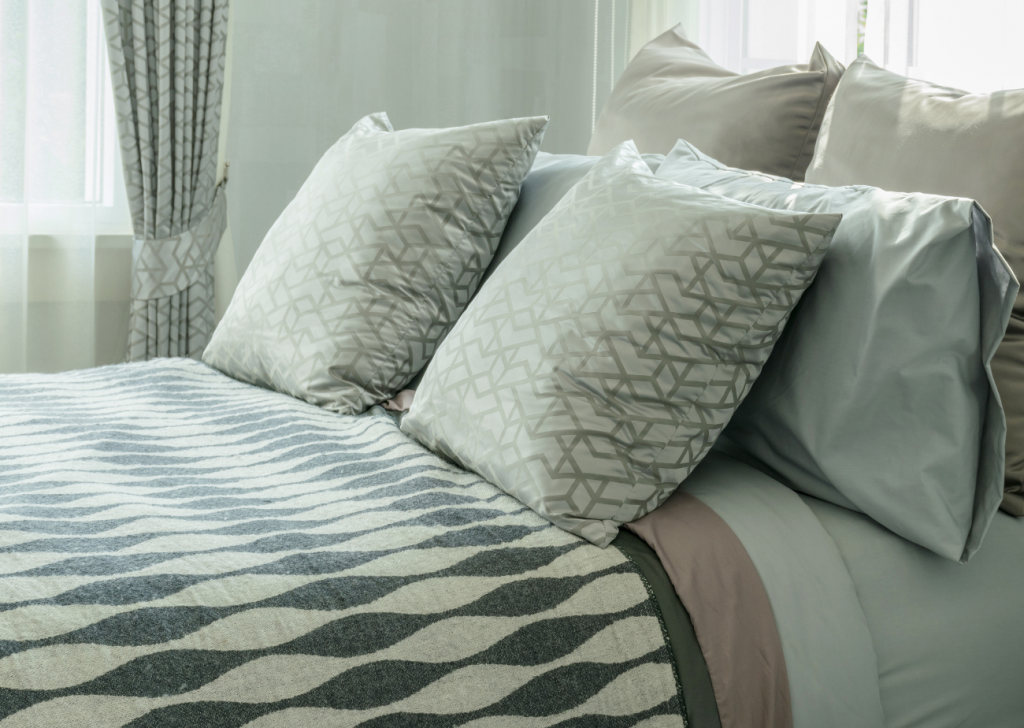 Of course, the bed you're styling a bed may not be yours. Many Airbnb owners are looking to create that striking first impression with well-made beds in their Airbnb property. Others want an impressive guest room in their home. Certainly, a simple bedspread and rectangular pillows have not been on trend for a while and it's not just about the appearance. With most of us working long days, quality rest has become so important and part of aiding that is having a soft sanctuary to retreat into each night. One that props you up in all the right places and is warm and snuggly.
Styling a bed properly is easy when you know how. It's a three-step process and we've put together this simple guide to making the perfect bed.
Step One In Styling A Bed – Bed Sheets
Layering is key to a well-made bed and that starts from the bottom up. We begin with a fitted sheet, of course, then a top sheet. Not everybody uses a top sheet, but if you're going for a bed that looks layered by a designer then it's essential. Also, it has to be said that there is a difference in comfort. Sheets tend to have a silkier feel than duvets and can be smoother on the skin. So adding a top sheet may be beneficial for sensitive skin types too.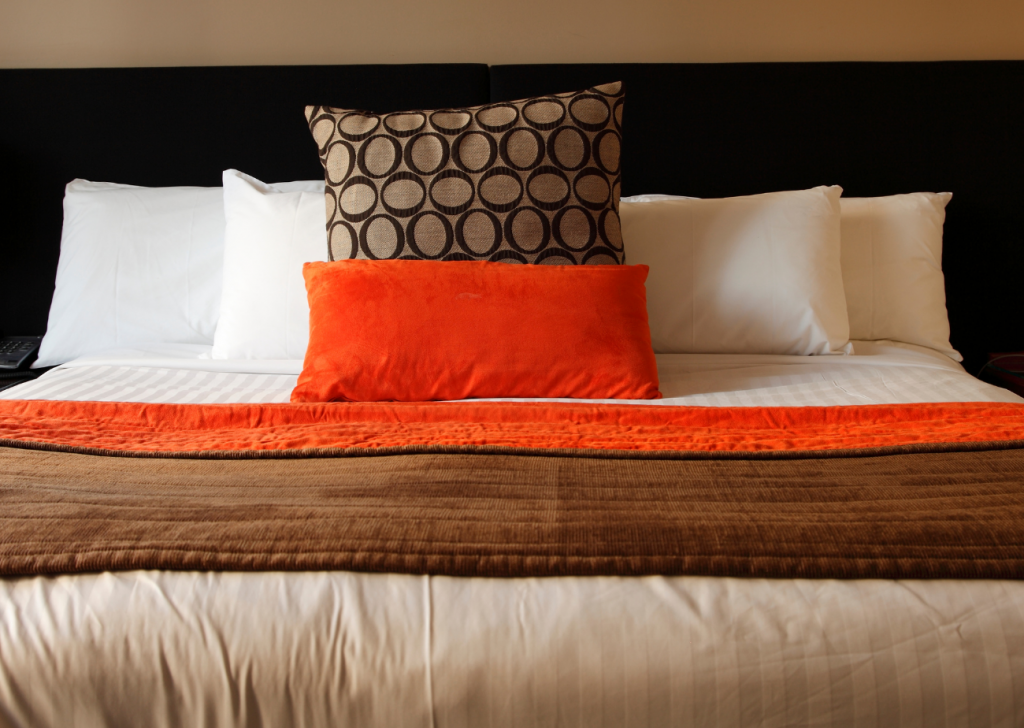 With your flat sheet, the main difference is that you won't be taking it to the head of the bed. So place the sheet on the bed with the decorative or top side facing down. Then, when you reach the near the head of the bed, turn down, creating a fold-down of roughly 20-25 inches. Tuck the sheet into the bed all the way around, creating hospital corners at the ends if able.
Step Two In Styling A Bed – Quilts and Duvets
A quilt can add another layer to a bed, making it more dynamic in appearance and far warmer. Perfect for winter but perhaps not for summer months. Unless used instead of a duvet of course. 
Nobody wants a ridiculous amount of laundry or bedding to store so it's sensible to consider whether a quilt is really necessary for you or if you might go for either a duvet or quilt.
If you do opt for a quilt then that is added to the bed after the top sheet. A nice touch is to place the top fold of the sheet over the fold of the quilt to draw attention to the layering as well as to keep the sheet the material you sleep under. A duvet would be added either after this stage or in place of this stage. Again, the top sheet may be folded over the top lip of the duvet.
There are generally three ways of styling a bed in terms of colour and pattern and they are as follows:

Patterned duvet with plain sheets
The most cost-effective way of styling a bed is to buy patterned and decorative duvets and keep other elements plain. Generally, this means you need fewer throws, cushions and sheets. It also means you can easily transform the look of your bedroom, choosing on-trend duvets or changing between seasonal styles.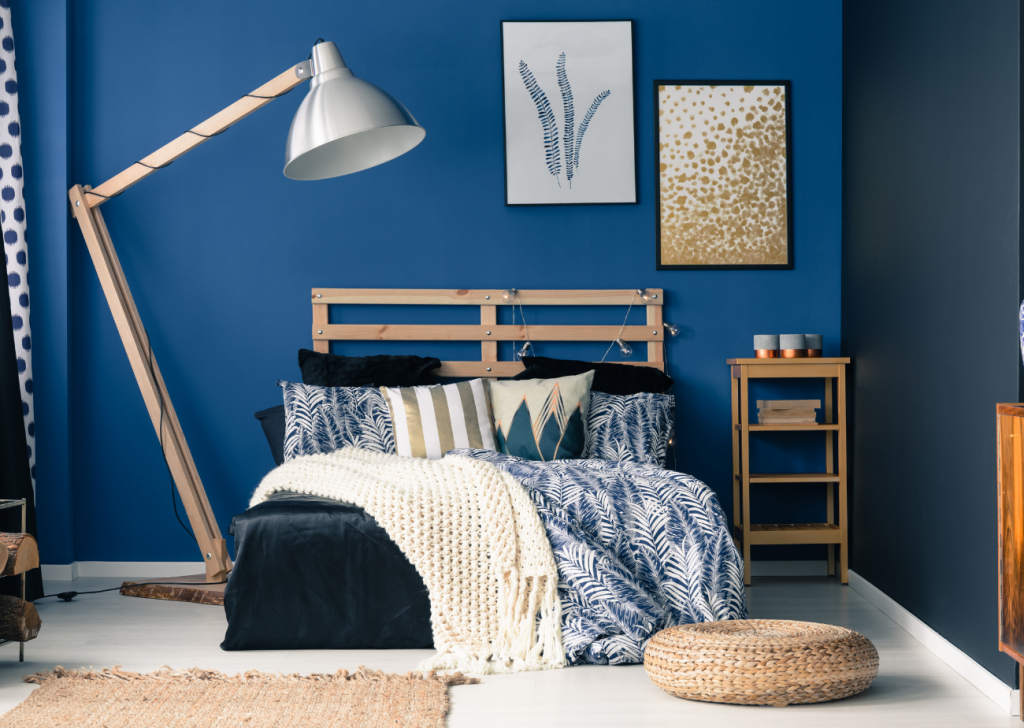 Plain duvet with patterned sheets

This can be a harder look to coordinate but, if you have a good eye for design, then this can be a great approach. The duvet covers the majority of the bed so a plain design accompanied by splashes of pattern and decoration can be particularly dynamic.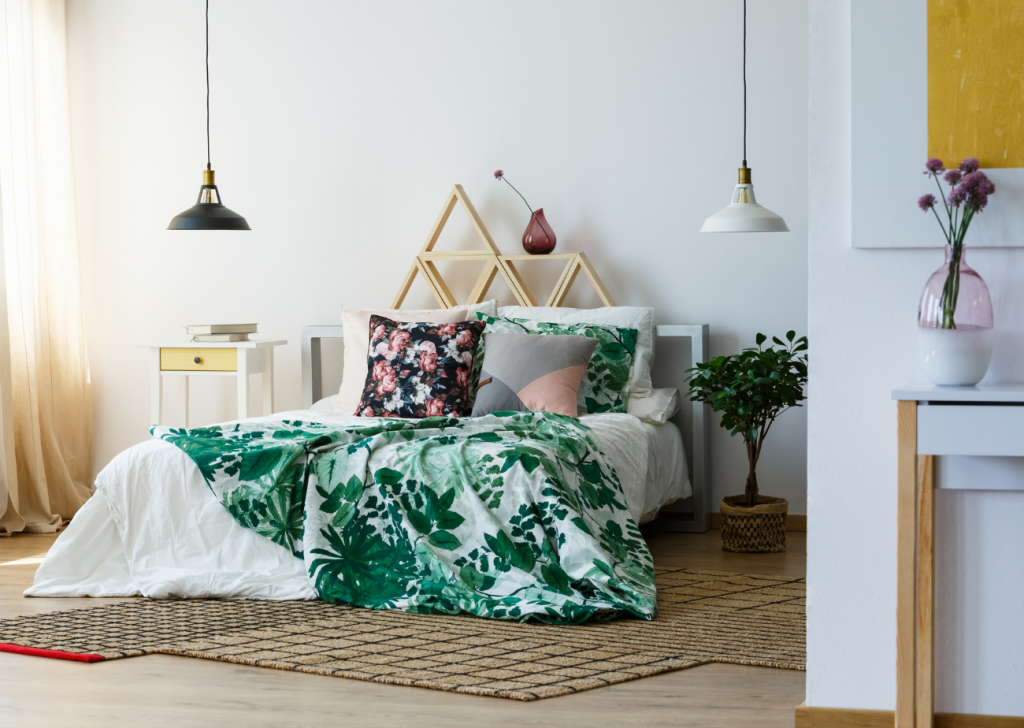 All plain with variety in colour, tone and texture
The most versatile, and therefore most cost-effective, way to style a bed is to avoid patterns completely. Instead, the focus can be on colour, tone and texture. Differing shades of the same colour can add depth. Or you may go for different but complementary colours for a pastel or bright look. An abandoning of patterns also allows for texture to be introduced to keep the layering dynamic. For instance, you may want to mix velvet cushions with silk sheets and fluffy throws. With a dominant pattern in the bedding set this can be overkill, but going for colour over pattern means you can play more with tone and texture.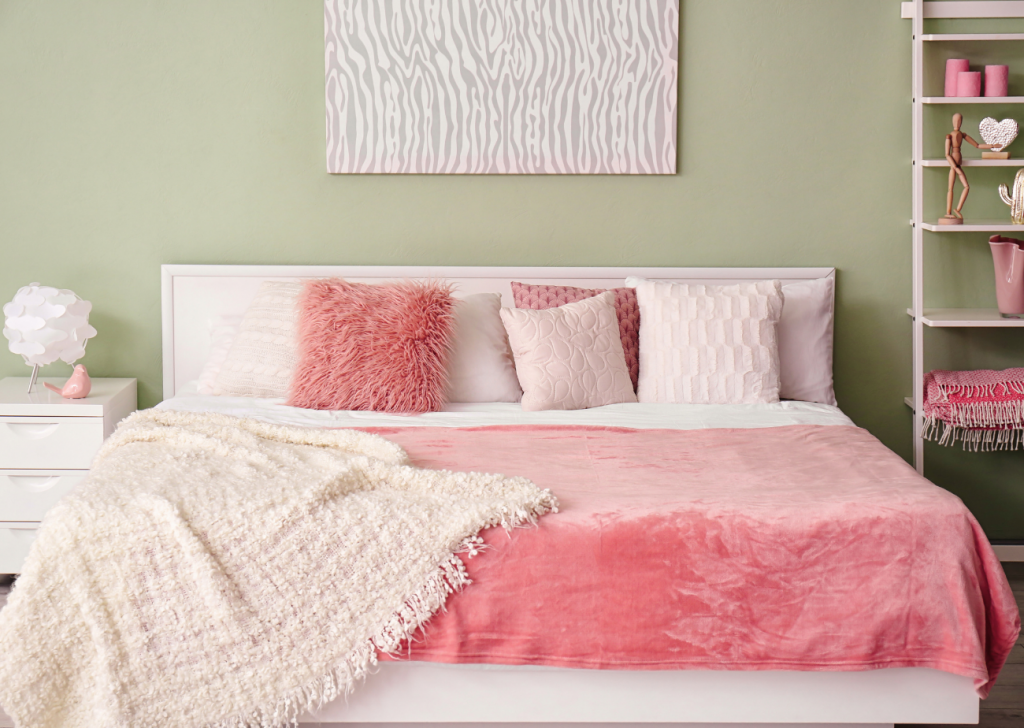 Step Three In Styling A Bed – Pillows and Throws
A top-heavy bed is the most popular choice for a reason. Layering pillows creates depth, makes the bed look more comfortable and offers a chance to add variety in size and shape.
When layering pillows you'll likely remove half of them before sleeping. Yes, for some this makes using multiple pillows a little silly. However, for that true designer bed look we'd recommend using at least five pillows on a double or larger bed to add interest and direct attention up to the headboard. Pillows should be titled upright and begin with either rectangular or square sleeping pillows, followed by two other rectangular or square sleeping pillows and then a decorative pillow, or a few.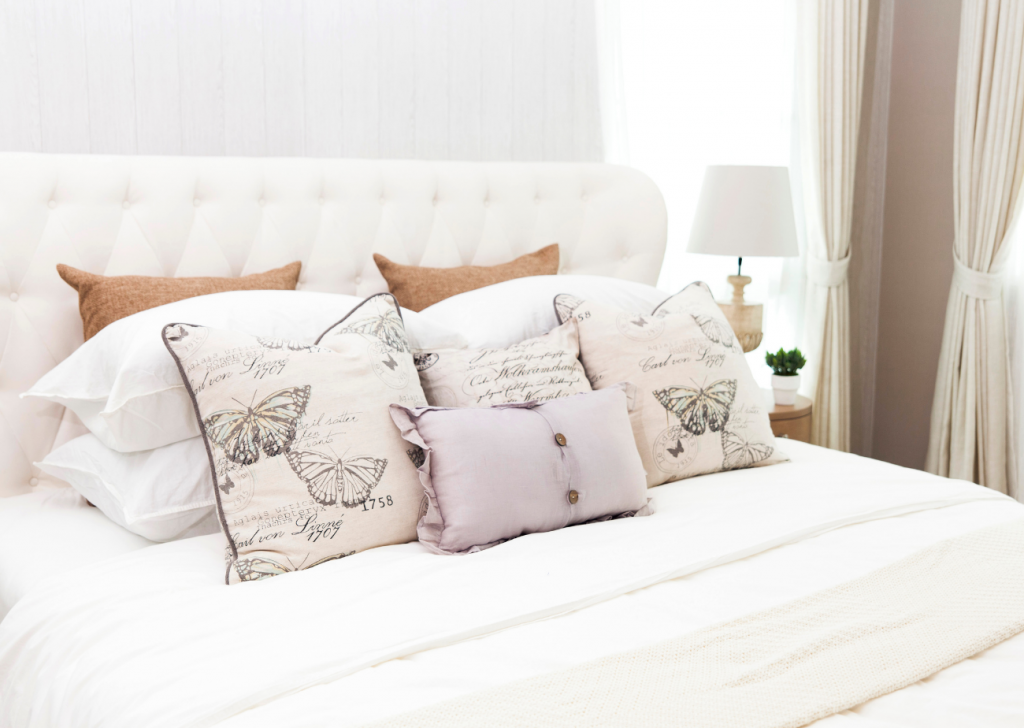 Pillows and throws are a wonderful way to add texture. Cotton or silk sheets and sleeping pillow covers are best to avoid skin irritation. However, on top of the bed, you can play with texture using decorative pillows and throws.
Throws may be added to the bottom half of the bed and can be neatly folded and tucked, or thrown if you prefer a more casual style. Throws add personality to a bed and decorative pillows add a point of focus. Whether you choose fabrics that are woven, quilted, velvet or throws and cushions with fringes, this is the point to add interest.
Essential Tips For Making The Perfect Bed
Whilst many people focus on creating a smooth look, wrinkles in your bedding are inevitable. Tucking your bedding too tight can make a bedroom look like a showroom and actually take away from that comfortable, cosy aesthetic.
More than the 'look' of your stylish hotel-worthy bed, scent and that feeling of freshness matters most. Wash your bedding separately from your clothing and make sure you hang it immediately after the wash has finished, preferably outside if the weather is favourable. You may use a scented detergent or fabric conditioner to create a pleasing fragrance. Alternatively, you can opt for laundry balls which can be a more eco-friendly way of washing and can combat wrinkles and help to create space between garments in the cycle.
Although we've focused on the importance of layering your bed for styling purposes, it is wise not to overdo this when the weather is warm. The combination of hot weather and layering can lead to mustiness and restrict the opportunity for the materials to breathe.
Stying a bed properly can give you that five-star hotel feel every day in your own home. So don't underestimate the power of a well-made bed. A beautiful bed screams 'house-proud' and attention to detail.
Want to keep that designer home of yours sparkling? Contact Hausmaids today for home cleaning quotes in Cheltenham, Bishop's Stortford, Winchester, Fleet, Farnham, Alton, Milton Keynes and Guildford and Godalming.