The kitchen can become disorganised more frequently than other places in your house, and with Christmas approaching quickly there are a few aspects that could provide you with a clean, tidy kitchen, ready for you to start preparing the Christmas feast for you and your dear ones.
The first step in decluttering your kitchen would be a pot/pans/other utensils division into 2 sections: daily use and occasional use. The closest drawers and cupboards can be used for the everyday utensils while the upper/lower down drawers/cupboards can be used for the occasional utensils, or if the space is limited, place them in a storage room. The plastic storage containers can be matched with their lids together, or placed close to each other separately depending on your preferences. If a container has no lid, and you can't find a use for it, it would be better to be thrown away then kept there to occupy space. Do the same with lids that have no container.
MICROWAVE CLEAN
The microwave, especially used on a daily basis can easily start looking grim with food splashes or spills. All you need to do is place a jug with equal amounts of water and white vinegar inside it and set the timer for two minutes to full powered heating, resulting in a very easy clean of the stains created from the meals prepared in there. 
In case of a bad smell, a bowl of water containing a slice of lemon in it can be placed inside and left there for two minutes on full powered heating, which will result in your microwave having a fresh, clean smell.
CLEANING THE COFFEE MAKER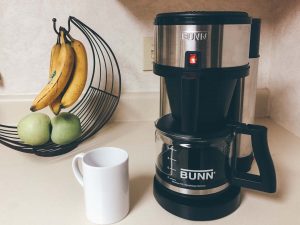 Modern coffee machines do have indeed their own cleaning cycles but once a year/6 months (depending on preference), it would be recommended to clean them intensively.
Vinegar and equal amount of water can again save the day! Half of the mixture can be left to percolate through, then switch the machine off for half an hour. Once it has been left to work its magic, let the rest of it run through the filter. Everything should be flushed after with two full loads of plain water and then is ready to make great-tasting  coffee again.
CLEANING YOUR BLENDER
It can be quite an intense task, but this appliances sometimes have the power to clean themselves. The main blending chamber should be filled with hot water from the tap, then mixed with a few washing up liquid  drops. After that, just run the blender for a few short blasts. The interior should clean itself of any gunk left and the last thing to do after, it would be to rinse the rest easily in the sink. 
CLEANING THE DISHWASHER
Even though the dishwasher runs on water and washing liquid, food debris, limescale and dirt can build up over time, which makes a monthly or annual cleaning a very good idea.
The internal racking needs to be taken away, then everything should be replaced with a bowl filled with vinegar and have a quick wash cycle on. Once this finishes, take the bowl out and tip some baking soda on the bottom surface, then run another cycle. This should assure you a pristine looking dishwasher which will have your crockery and cutlery cleaned perfectly every time.
OVEN CLEAN
For the oven, all that is needed is a bowl in which you can prepare a rough paste, out of water and baking soda. Apply the result to all the dirty surfaces and leave it to work its magic as long as you can ( the longer amount of time the better). Then, just use a clean sponge or cloth to remove the stained spots easily with just water.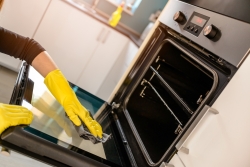 In the corner of your cabinets or on the countertops, from time to time, we all tend to gather certain appliances that sadly are only there to gather dust.  If they have not been used for a year, then you can check if they are still working and in good condition and have all the necessary parts to be donated at a local charity or organisation of choice. If not, they could also be sold at a yard sale or over a Facebook marketplace. 
The same thing can be applied to the collection of random, one-off dishes in the cupboard that we have acquired over the years  from friends, family or neighbours sharing food at certain times and events. Ideal of course, they could be returned to their previous owners, but if not, they could also be donated, sold, or if not, just thrown away, together with the rest of plates, bowls, cups and other dishes that no longer serve you. Putting away the dishes will be substantially easier when you actually have all this new free space to be arranged in. 
At www.hausmaids.co.uk you can find out more helpful cleaning tips or visit our domestic cleaning services list. Our offices based in Farnham, Alton, Guildford, Godalming, Sawbridgeworth, Winchester, Bishop's Stortford, Cheltenham, Sutton Coldfield and Milton Keynes can provide you with professionally trained cleaners ready to meet all your requirements.