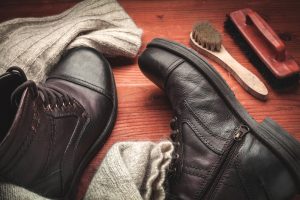 The rainy cold winter season includes a few specialties like muddy puddles, stormy days and possibly snow to walk through. Salt stains, dried-out leather and dark scuffs are only a few of the problems your winter boots might have to defeat this season. But we are here to reassure you that your favourite pairs won't be ruined as we have put up together a few ways for you to keep your boots looking pristine through the cold months.
Salt stains – remove them with white vinegar and water. The pesky white rings that occur when you are in contact with salty sidewalks are an invisible side effect of winter. In order to be removed from leather boots, mix two parts vinegar with one part water and rub it into the shoe exterior until it disappears. Let them air dry and pat them with a dry piece of cloth, while keeping them away from any sources of heat (makes leather brittle). If the boots are made of suede, start by brushing the loose dirt then lightly dabbing the solution mentioned above until the exterior is clean.
Restore dry leather – vinegar tends to dry out leather, so once all the stains are removed, you might find useful to use a leather conditioner. It will revive cracked leather and help restore some of its original shine. For suede on the other side, skip any wet solution and just use an eraser (best to keep it dry at all times so it doesn't lose its texture). If the nap of the suede is flattened, you can use a clean toothbrush/terry cloth vigorously on the exterior of it.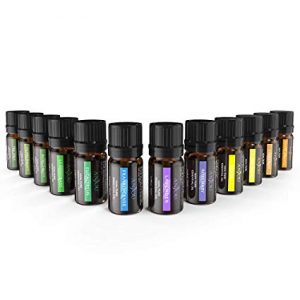 Essential Oils for Odor – Due to everyday mileage, there is no secret our feet can get sweaty inside boots. To neutralize odors, you can pour a teaspoon of baking soda overnight. The next morning pour out the baking soda and continue with a few drops of essential oils for a new fresh scent. Multiple shops include a large variety of essential oils, so there are many options to decide from.
Scuffs can be erased with baking soda – from leather shoes, you will need a light touch when erasing ugly black marks. Just dip a soft cloth in water, then baking soda, then gently rub the cloth on the shoes. For rubber boots, you can use some kitchen scouring powder in order to get them spotless. Once they are clean, use a damp cloth to wipe them off and buff dry. 
Water-Repellent Spray – a very good and efficient alternative that saves time and hustle is a water repellent coating spray. It can be applied right after cleaning or right after the purchase of a new pair of boots. For salt stains, apply as soon as you are indoors, before the shoe dries off. A helpful tip is too fill the shoes with newspaper to maintain their shape while you dampen them with a wet sponge.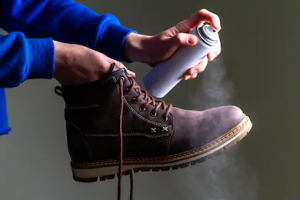 Haus Maids is always searching for the best ways to make your life easier and hassle free. Our offices in Farnham, Alton, Guildford, Godalming, Sawbridgeworth, Winchester, Bishop's Stortford, Cheltenham, Sutton Coldfield, Milton Keynes are always ready to provide you with the best domestic cleaning services. Please visit www.hausmaids.co.uk for more information and enquiries.