The bathroom is perhaps the most challenging to make over on a budget. After all, the large features – the bath, toilet and sink cannot be changed so easily. However, with a little creativity and some thoughtfully placed items and fixtures, an outdated or plain bathroom can become a haven.


Although one of the less thought-about rooms in a household, it is one used by residents multiple times daily and used also by visitors. Challenging as it is to inject personality into a room where the function so rigidly dictates the arrangement, it is highly rewarding when it's gotten right. For those of us who use a warm bath to relax, the bathroom can be a place of tranquillity. For those who get ready for nights out and perhaps have a large enough bathroom for it to host a cosmetics counter, the space can be one of glamour and style. A great many, usually those who are preferable to an invigorating shower, find the bathroom the place where they properly come awake each morning, refreshed and ready to face the day. Whatever sensibility you prefer your bathroom to reflect, there will is much to spark the imagination in these affordable ways to restyle your bathroom:
Affordable Ways To Update Your Bathroom
If you have a fully functional bathroom that serves its purpose but is looking a little tired, then there are a few reasonably quick and fairly affordable fixes that don't require replacing the bathroom suite.
Replacing A Bath Panel
Bath panels can discolour, especially due to dampness. They may also get cracked. The good news is bath panels can be replaced in under an hour and, with the help of a tutorial, any reasonably handy person may do this. Wooden bath panels are popular as they can be painted any colour, so you can add a pop of colour to your bathroom. Plastic ones however are more waterproof and easier to fit. The most difficult part is cutting your bath panel to size.
Check out this Tongue And Groove Effect Bath Panel or this Oak Effect Bath Panel.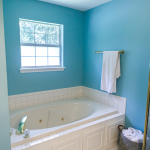 Grouting
Tired tiles can be transformed with a grout refresh. Often when bathroom tiles are looking discoloured or affected by mould, it's not the tiles themselves that are suffering but the grouting in between.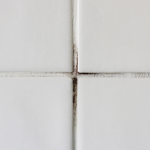 To regrout bathroom tiles you'll need to remove a layer of the original grout which can be done with a grout rake which should help to avoid scratching the surrounding tiles. This can be a tedious process but it's important to remove old grout so that the new layer lies flat. Applying the new grout is relatively straightforward and can be done using a tiling trowel. There is no need to be precious here as the tiles can be scrubbed to remove any excess grout once the lines have been filled. Once complete, you may be surprised at how bright and new your bathroom tiling looks.

Simple Ways To Restyle Your Bathroom
You can make a big change to the feel of a room by adding just a few stylish touches. The cost of doing this can vary depending on where you shop, but if you're patient and able to take on some simple DIY then there are many affordable ways to restyle your bathroom with just a few simple changes.
Wallpaper
Whilst we do not commonly see wallpaper in bathrooms this does not mean it cannot be done. Naturally, you'll want to avoid wallpaper on walls likely to get wet, so a feature wall is perhaps the best course. Vinyl wallpaper is the most suited type of wallpaper for the bathroom due to its waterproof coating. Some bathroom wallpaper ideas could include:
Rainforest wallpaper

Waves and water-based pattern wallpaper

Figurative wallpaper

Nautical or beach-themed wallpaper

Geometric Pattern Wallpaper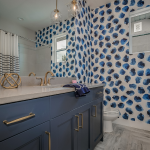 New Fixtures
If you're wanting affordable ways to restyle your bathroom, then fixtures and fittings is a good place to start. The cost of this can vary depending on where you're shopping but replacing the following can give your bathroom a whole new look, maybe even a theme, and can also be a great way to inject some colour into a plain white bathroom:
Towel rack

Toothpaste holder and soap dish/dispenser

Mirror

Toilet roll holder

Toilet brush and holder
Plants, whilst not a fitting or a fixture, can also add literal life to a bathroom and bring a little nature into what can be a sterile feeling space.
Soft Bathroom Furnishings
As the bathroom towels are likely to be on display, you'll want to use them to enhance the style, tone or theme of your bathroom. Go for something bold and patterned but know that they will likely dominate the look, meaning it's difficult to add pattern anywhere else. Alternatively, you can go for a set of one colour.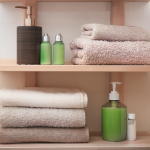 A popular way to do this is to buy a set of towels in your desired colour. However, if you're not in a position to invest in matching towels then you can add to your towel collection more slowly. They probably won't match but, here's a style hack for you – choose a colour and then over time buy towels and other furnishings in various shades of this colour. This can look purposefully stylish, adding a more dynamic and less rigid aesthetic. So, for instance, if your theme is blue, you can have some sky-blue flannels, royal blue hand towels, powder blue bath sheets and a royal blue bath mat. All different tones and yet harmonious when put together.
Tile Stenciling
If you've read our Affordable Ways To Restyle Your Kitchen Blog, then you'll probably know we're fans of stencilling tiles. This is a way to add a whole new look, or even a theme, without replacing your tiles.
Tile stencilling can be used to add a whole pattern or can be a single design used n the odd tile to underpin a theme. For bathrooms, we love this mermaid scale tile stencil design and or these gorgeous turtle tile stencils.
Keeping Your Bathroom Stylish
The key to a stylish bathroom is keeping damp and mould away. Whether you're going to relax or wake yourself up in your bathroom, it needs to be fresh and welcoming. So make sure your air it as often as possible, preferably after a shower or bath and not before you're going to use the room – no one wants to be in a cold bathroom!
Scent is also very important in a bathroom for obvious reasons. Of course, plug-in air fresheners cant be used and spray fragrances can make smaller spaces stuffy and overly perfumed. More subtle, long-lasting fragrance in the form of oil diffusers or potpourri. You can find potpourri in glass jars which looks particularly attractive in the bathroom.
Cleaning your bathroom regularly is also important, but we can help you with that! Get in touch today with our domestic cleaners in Fleet, Farnham, Alton, Milton Keynes, Cheltenham, Bishop's Stortford, Winchester and Guildford and Godalming.