Haus Maids Milton Keynes are proud to be a partner with Shefford Saints Junior Football Club which was founded in 1989. We have signed a sponsorship deal to run for the next year, which will see Haus Maids sponsor both he U10's and U12's teams.
The club currently runs 16 teams in the junior section as well as 3 ladies teams, and 2 Mini teams for the under 5/6 and under 7 year olds. Shefford Saints is a competitive, yet friendly family club which is a fantastic match for the Haus Maids approach to business.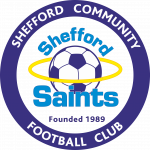 We are delighted to have the opportunity to sponsor the club and look forward to supporting them over the coming seasons.
Haus Maids Milton Keynes offer weekly, fortnightly, monthly and one off cleans, carried out by our professionally trained, uniformed, fully insured teams. We provide a free in-home estimate to tailor our services to your requirements.
For more information about our services visit www.hausmaids.co.uk