Many of us will be hoping to host Christmas in our homes this year. Even if you aren't, chances are you'll be spending plenty of time in your home with your family in the lead-up to Christmas, whilst the weather outside is frightful.

Our home actually has an important part to play at Christmas. After all, much of Christmas is about bringing inside nature and light during the long dark winter. Especially since we're still feeling the effects of the pandemic and are likely to be spending even more time at home this winter, with some of us even working from home. Therefore, it's never been more important for a house to feel like home. Nick-nacks and houseplants and candles are all very instrumental in this but nothing makes up for an unclean or uncluttered home. Now, we highly recommend you outsource this task to the lovely professional cleaners at Haus Maids. Whether it's a deep clean or spruce up you need, no doubt our time can transform your home and get you ready to crack on with Christmas in no time at all. However, if you're undertaking the pre-Christmas clean yourself then we've got you covered too. Follow our cleaning prompts below to prepare your home for the festive season.
Here is our guide on how to tackle the pre-Christmas clean this 2021: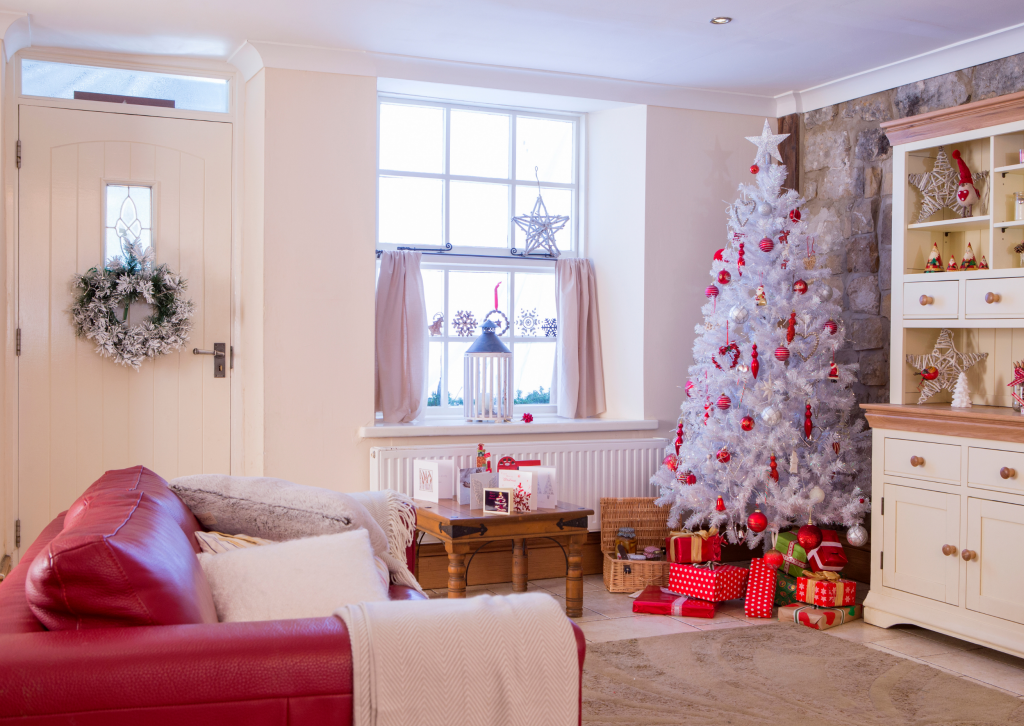 A Sparkling Kitchen at Christmas
The kitchen is the heart of the family home at Christmas. If you're hosting then it's the birthplace of Christmas dinner – oh, the pressure. As I always remind myself though, it's only a roast dinner with a few extras. The difficulty with Christmas dinner is the timings and many working parts. For this reason, what you need more than anything else to keep calm and carry on through Christmas dinner cooking, is an organised and easy kitchen.

Everyday life gets particularly busy at dinnertime, with evening meals having to be made so quickly and often whilst on the phone to check in on parents, ensuring the kids are getting their homework done and doing the washing up as you go. If your life looks like this then you likely get to the stage where you're throwing pots in the cupboard, quickly shutting the door and just praying they don't all tumble out (at least until you next open it). Believe us, you don't want this at Christmas. Especially when there might be some family member or in-laws sipping wine in the kitchen 'helping' you with the cooking.
Early December is the perfect time to empty your kitchen cupboards, give them a good clean inside and put everything back in the proper order. There's something immensely satisfying about this task and you'll be so grateful you made time for it.
You may even find yourself wanting to spend more time in the kitchen in the lead up to Christmas too. Making cookies or gingerbread houses with the kids or brewing mulled wine.
Oven Cleaning at Christmas
You can book a Haus Maid cleaner to come to your home and take care of the oven clean in time for Christmas. However, if you're determined to take care of the oven clean yourself then this is our lowest-stress possible method.

First, select a cleaning product that will do a lot of the hard work for you, such as Oven Clean. We love the 'leave in the bag', 'cover with the foam and leave to dissolve dirt' approach. You'll save a lot of time, energy and sponges this way. It also means you can start the job and then do something else for a couple of hours. The smell can be quite intense and even make you feel unwell so we recommend opening a window and leaving the house for a while whilst the product gets to work. A walk can be great to get yourself some fresh air in the winter and warm you up too.

When you return it's time to get stuck into cleaning that oven. If you won't let us help with this then heed our advice and put some music on to motivate you through the task. Then, after you're done, run yourself a bath (you'll want to get rid of the bleach and grime scent) and maybe even pour yourself a well-deserved glass of wine.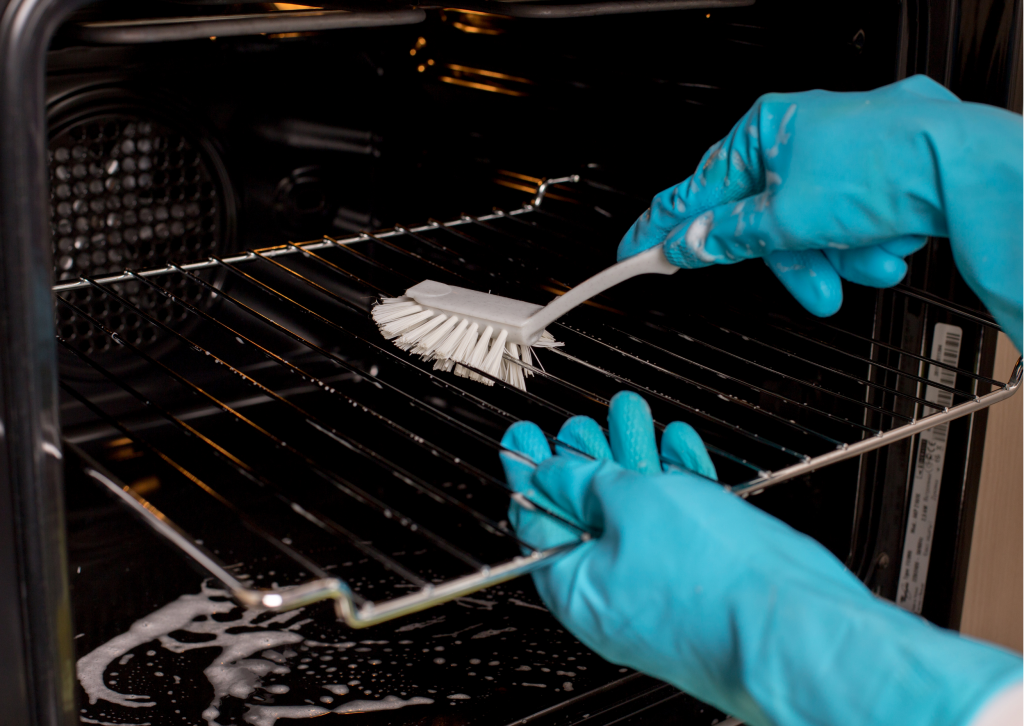 Floors, Ceilings and Christmas Decorations

A common mistake is to clean the house top to bottom and then retrieve those Christmas decorations from the attic and watch the dust cloud erupt from the box. Tinsel and such things are perfectly designed to collect dust and, having not been used for a good few months, you'll find them in need of a good shake. Don't waste your time dusting prior to getting those decorations out. Always make the mess the best you can before cleaning it.

Once you've unboxed those dusty decorations and made yourself a proper mess, then work from ceiling to floor, dusting surfaces as you go. Leave washing or hovering your floors until you've hung the decorations, as you may disturb more dust doing this. We love a Shake 'n Vac or a scented floor polish to really give that clean scent to your home. However, if you're not a fan of that 'polish smell' then treat yourself to a Christmassy candle, such as scots pine or spiced apple scented to further feel the festive season in your home.



Windows and Mirrors
Often, windows and mirrors get overlooked in the fortnightly/monthly clean. It usually means going back to the cupboard to get the glass cleaner and it's easy to think it doesn't make much difference. Cleaning glass surfaces though have that same surprise satisfaction that comes with eating a good salad. You never think you are going to enjoy it but when you do it you wonder why you don't make it a more regular thing. The truth is that sparkling windows and mirrors have the power to not only make your home look extremely clean but even help it look bigger and lighter.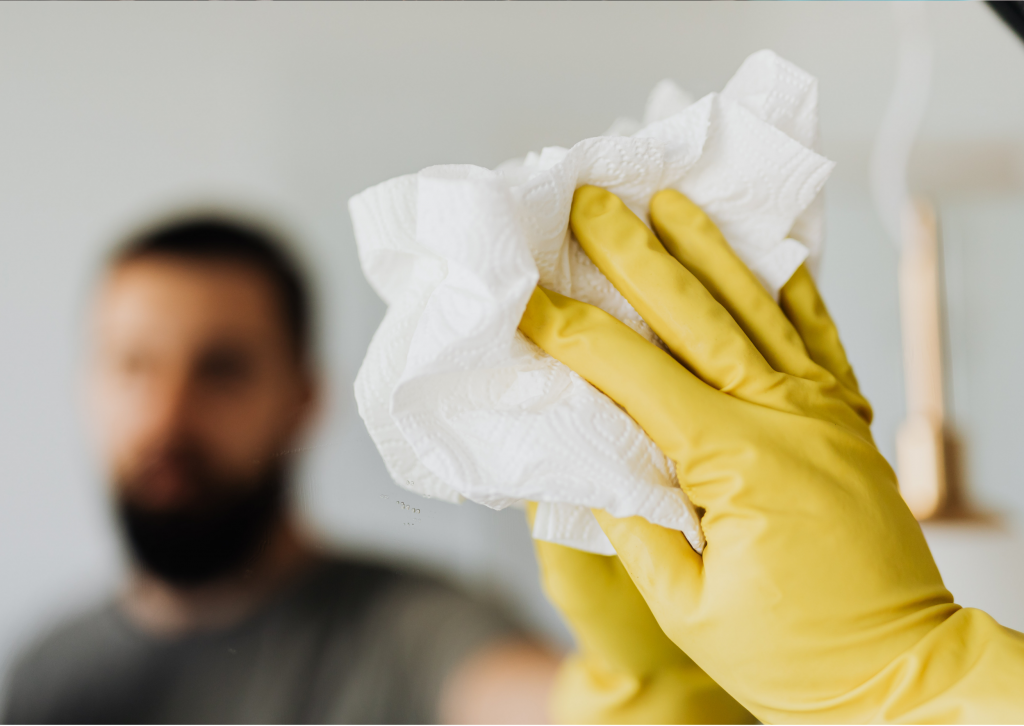 Pre-Christmas Clear-Out
As you get older, and especially if you become a parent, the excitement that comes with the prospect of getting 'new things' for Christmas is somewhat tainted with the back-of-mind persisting question of 'where is it all going to go??'

There is no better time to be ruthless than the Pre-Christmas clearout. Aside from the fact that it's abundantly clear, the things we haven't used in the last year, it's the best time to persuade the kids to let go of toys, books and games they have outgrown.

To get into the giving spirit of Christmas and encourage living sustainably, undamaged items can be gifted to a local charity shop or may even be of use to a local refuge. In a pledge to live sustainably, many people are also looking to buy second-hand for Christmas so utilise Facebook Marketplace or Gumtree for selling on unwanted treasures.

Cosy Christmas Home Tips
There has been a trend in recent years for Christmas themed cushions, blankets, bedspreads and other large items. However, many of us neither want quite that much Christmas nor have the space or funds to support such festive homewares. Most of us want to create a cosy winter ambience in our home for the Christmas period with a few decorations and lights to get us into the holiday spirit.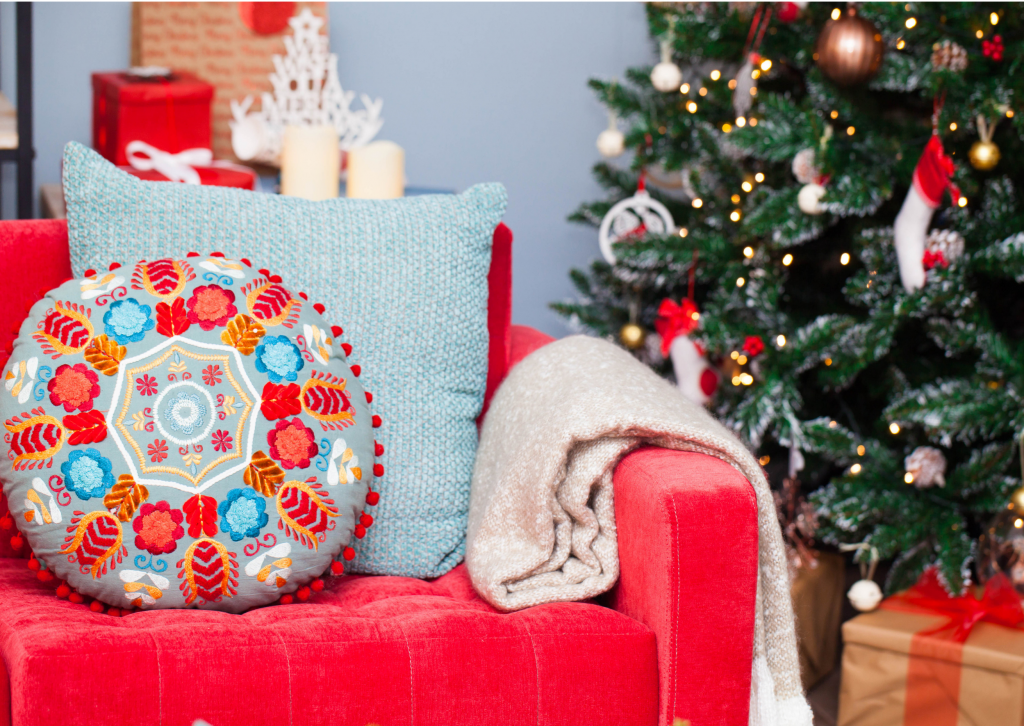 To create the kind of atmosphere that makes you glad to be at home during winter, remember – lighting, scent and touch.

Lighting – Once you've got up that Christmas tree you'll have a lovely corner source of warm lighting from there. Coloured lighting can be lovely but you may want to avoid blinking lights as they can put a strain on the eyes and even prompt headaches. As soon as it gets dark, close the curtains, turn on the lamps and Christmas lights and turn off any big centre and spotlights to create a calm soft ambience.
Scent – There are so many lovely scents that remind us of Christmas. For fragrances to last the month, plug-in air fresheners are a reliable way to go. However, you can't beat a scented candle or incense stick for an evening meal or when friends come over for pre-Christmas drinks.
Touch – The winter months are all about home comforts. It's no time to store blankets, cushions and soft furnishings in cupboards. Keep them within reach and give them a wash with your favourite fabric conditioner so they smell great as you snuggle into them too.
Tackling the pre-Christmas clean can be a therapeutic experience that gets you in a festive mood and ready for the holidays. However, if it is all a bit much then let Haus Maids help you get off to the best start with a one-off pre-Christmas clean for your house in Cheltenham, Bishop's Stortford, Winchester, Fleet, Farnham, Alton, Milton Keynes, Guildford and Godalming.