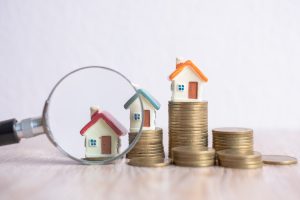 When you are looking to sell or rent out your home, it pays to know how to add value to it!
When people think of 'adding value', they often imagine large, expensive projects which can take months to complete. But while larger house projects might be the most obvious choices for adding value, you should not overlook the value that will be added through consistent, thorough cleaning.
In fact, cleaning could give your home just the boost it needs to dazzle potential buyers!
If you want to sell your home, it needs to look clean, fresh and inviting. Potential buyers will quickly turn their attention elsewhere if they are not getting those vibes from the property. A home with a well-maintained interior gives the impression that upkeep has been constant, and if you take the time to properly clean, you may be surprised how quickly it sells.
But when the stakes are high, it is best to leave the cleaning to the experts. A professional cleaning company will have all the tools, skills and knowledge needed to significantly increase the value of your property far beyond what it costs to hire them.
Here is a breakdown of three reasons why investing in professional cleaning services will be worth it…
Guarantee a deep and thorough clean
A key reason to hire a professional cleaning service is that they do all the dirty work for you! You can try to clean your home by yourself, but you will quickly realise that it is a time-consuming job that will take a lot of energy (and potentially money if you have to go and buy additional cleaning products!). You are also likely to miss a few spots — something seemingly minute which could end up being a major negative for potential buyers.
A professional cleaning company will provide a deep, thorough clean that is hard to replicate when doing it on your own. They do this for a living and know exactly how to clean hard-to-reach areas and each type of surface to ensure all aspects of your home — from the skirting boards and windowsills to the oven and shower — are cleaned from top to bottom. This will help to give your home a refreshed and vibrant feeling that will draw in interest from potential buyers.
Rejuvenate a tired looking home
Marks on the wall and dust in corners can quickly make your home look grubby and give the impression that there may be bigger issues lurking behind the walls — even if there are not any! However, these issues could potentially cost buyers lots of money and will quickly put them off making an offer.
Professional cleaners will be able to breathe life into your home and make it look good as new — leaving a positive and lasting first impression when it comes to showcasing it. Once the property has been returned to its original shine, it will be hard for 'lowballers' to find small issues to use as an excuse to lower their offer.
Save your buyers time and money
Satisfying the needs and expectations of potential buyers is one of the most important aspects in getting your home off the market quickly.
Moving into a new home is stressful enough as it is. Buyers do not want to have to spend the first day in their new house cleaning it from top to bottom before they can move their furniture in. Equally, they do not want to have to pay someone else to do it when they have just forked out a large sum of money on the purchase and the move.
By having your property professionally cleaned, you are doing your buyers a huge favour — it is one less problem they have to deal with.
Leave a positive, lasting impression
If your home has been on the market for a few weeks or you have had a number of viewings but still are not seeing any further interest, then a professional clean could be the answer!
Having all of the finer details taken care of goes far when it comes to selling your home and making sure you have some pull in negotiations. Ultimately, the best way to sell a property fast is to boost its overall value in the eyes of interested buyers.
Getting your home professionally cleaned will save you a lot of time, money and energy and leave a positive, lasting impression — making it well worth investment.
Haus Maids offers a range of cleaning services, including regular cleaning and end of tenancy cleans. To find out more, please get in touch with your local office today.