We all know that doing home cleaning is just no fun. After a full week of working, cleaning the house is the last thing you want to do at weekends. If having a cleaner home is your goal, is it time you considered enlisting the help of professional cleaners. A regular cleaning service will free up your time, and give you the opportunity to live in a comfortable environment without doing all the housework yourself.
Given the many benefits of using a house cleaning service, it's not surprising to know that more people are choosing to let professionals take care of home cleaning. However, the decision to hire someone to clean your house is something that involves careful consideration to ensure the safety of your property. You need to find the right company whom you can trust to access the most private areas of your house, and a cleaning company who knows the appropriate cleaning technique to deal with the more challenging cleaning tasks at your home.
Here, we give you a few tips on how to employ a cleaning professional, and have a great relationship with your cleaning company.
Seek recommendations
When looking for a cleaning company to work with, word of mouth is best. Try asking your neighbours, family and colleagues if they have a company they would highly recommend. If your neighbour has a long history with a cleaning company, then that should make you feel comfortable in trying out their service in your own house. Referrals carry more weight because they come from people you personally know and trust.
Start Researching Cleaning Companies
If you are not able to get a recommendation from your friends, it's time to do your research and go online to research about cleaning companies in your area. A quick search of "home cleaning service in ( + your location)" will give you a list of local cleaning companies that work in your area. Look through the website of each company, and check out their reviews to see what previous clients have to say about their cleaning services.
Take reviews with a pinch of salt
Remember that not all clients leave reviews, and that unhappy clients are more likely to shower the internet with their bad experiences with a company. Some of those negative reviews, however, can be blown out of proportion just because some people use reviews as a chance to vent. With this in mind, we advise taking online reviews with a pinch of salt.
However, look out for cleaning companies that have mostly terrible reviews. A good rule of thumb is to avoid companies with mostly negative customer reviews , and to find one with mostly stellar reviews, and a maybe few bad ones.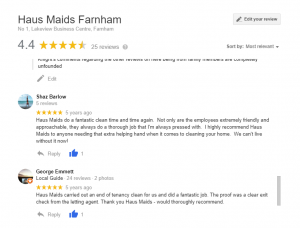 Check their insurance
When employing a local home cleaning company, we suggest choosing one that is insured. This is one of the best ways to protect you and the cleaners from any liability due to damages, injuries, and loss, and to ensure that your possessions are safe and secure while the cleaning team works on your property.
Be aware that an insured home cleaning company offers their services at higher rates compared to those that don't come with an insurance. However, they provide a level of assurance that is important when you are letting people into your property.
Experience and staff training
Don't hesitate to ask the company how long they have been in business, It's better to choose a company that is backed by many years of experience, and ideally, one that provides specific and continuous training to their cleaners. A good home cleaning company will be happy to share with you information like the type of training that their cleaners receive, and their plans for refreshing the training's that the staff receives. Learning about a company's experience and staff training will give you assurance that the company cares about the service they deliver to clients like you.
Inquire about the level of service
Before deciding on which home cleaning company you will be working with, make sure you are clear on the types of service they offer. Does the company provide a fixed service or are they open to taking specific requests for cleaning? How detailed will they get when delivering the service? Home cleaning companies offer a wide range of services, and you will only find the best one if you consider your specific cleaning requirements and your lifestyle. Maybe you want a service that you can bespoke and want the freedom to provide cleaners with your own to-do list. Or maybe you prefer to get the same service every home cleaning visit, so you don't have to think about creating a list for the cleaners to follow. Again, the right company is the one that can provide the specific service you are looking for.
Finally, tidy before they come
Once you have decided on your chosen home cleaning company, the next thing to do is to prepare for the first cleaning appointment. We suggest tidying up before the cleaners arrive so they can focus on doing what you hired them for: scrubbing surfaces, and making sure every nook and cranny is dirt-free. If you don't tidy stuff lying around the house, it will make it harder for the cleaning team to clean surfaces, and to get more things done while they are at your home. By not putting things away, you also risk the cleaners placing your possessions where you might not be able to easily find them. We all know how annoying it is when you cant find your slippers!
Working with a cleaning company for your home is one of the best decisions you can make for yourself and your family. It lets you enjoy your home, as you start to see your property as a sanctuary rather than a place that constantly demands your effort to clean. At Haus Maids, we provide a range of bespoke cleaning services to accommodate your needs and to get the challenging chores off your shoulders.
We offer home cleaning services in the following locations
Farnham
Winchester
Alton
Guildford
Godalming
Cheltenham
Bishops Stortford
Sawbridgeworth
Milton Keynes ( MK )
Cranfield