In Britain we love flowers. A nation of keen gardeners and blessed with varied weather, including a fair amount of rain, the UK landscape provides extremely fertile conditions for plants and trees to flourish.
We're also very keen to bring nature into our homes with houseplant sales continuing to boom during and after the pandemic. Of course, many of our holidays and celebrations too include flowers as a symbol – daffodils for Mother's Day, roses for Valentine's Day and floral displays at weddings, funerals, birthdays and various other events.
However, most of the flowers we buy, don't tend to come from Britain at all. In fact, 90% of our flowers are imported. This means transporting flowers, mostly from the Netherlands, by plane or boat for which large refrigeration systems are required. This comes with a sizeable carbon footprint. As a result, many people have been seeking alternatives to buying cut flowers for home flower display purposes. Hence the rise in preserved flowers and many other home flower display trends we're seeing in 2022. 
Jars Of Hyacinth
Hyacinths are beautiful flowers that bloom in winter months and are ideal for adding colour in your home. Usually grown outdoors, this bulb is also suited to home flower displays since they require no compost. Growing hyacinths in glass jars has become popular since you can place the bulb sitting in the rim with water below (but not touching the bulb). You will then be able to see the roots as they grow below.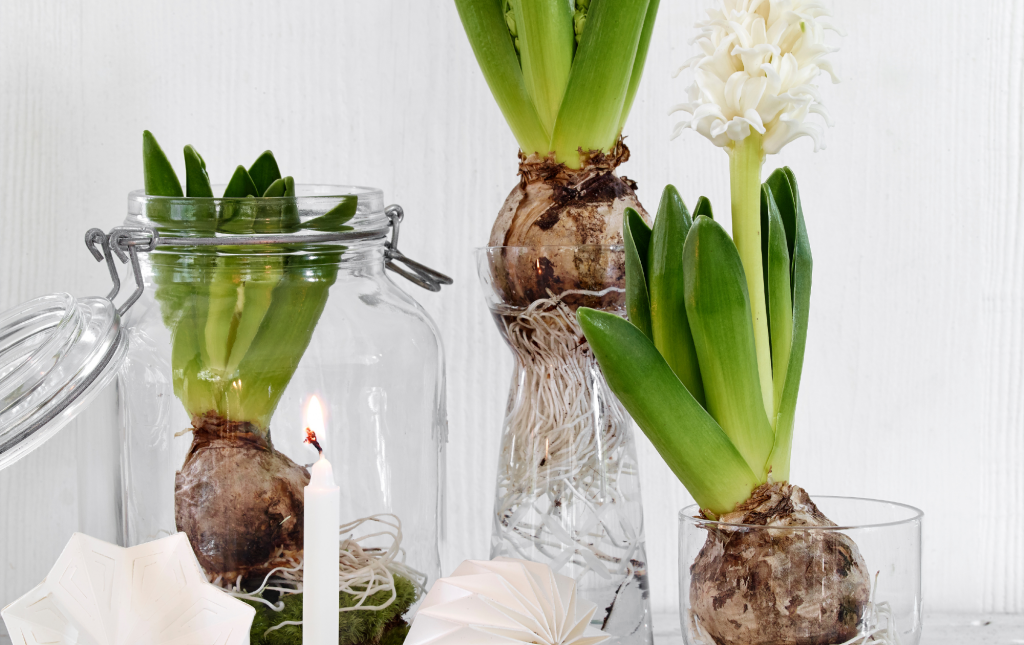 The flower will grow above the vase or jar and will be in bloom for 8 to 12 weeks. After flowering, it is possible to preserve the bulb so that it may bloom again the following year. Find out more about how to do this at Gardening Know-How.
Hyacinths are stunning in the home, where flowing plants are often difficult to keep. The glass jar display provides a unique insight into what goes on below the bulb. They add a much-needed splash of colour and scent in winter months and growing flowers indoors is much more sustainable and economical than buying cut flowers, which will only last a few days.
A Jug Of Hydrangeas
There's something of the farmhouse style about a jug of flowers, but jugs can also be used for planting. A big benefit is their shape which means that soil cannot often be seen from the top or sides. Therefore, they look a lot like a jar of flowers as opposed to a houseplant.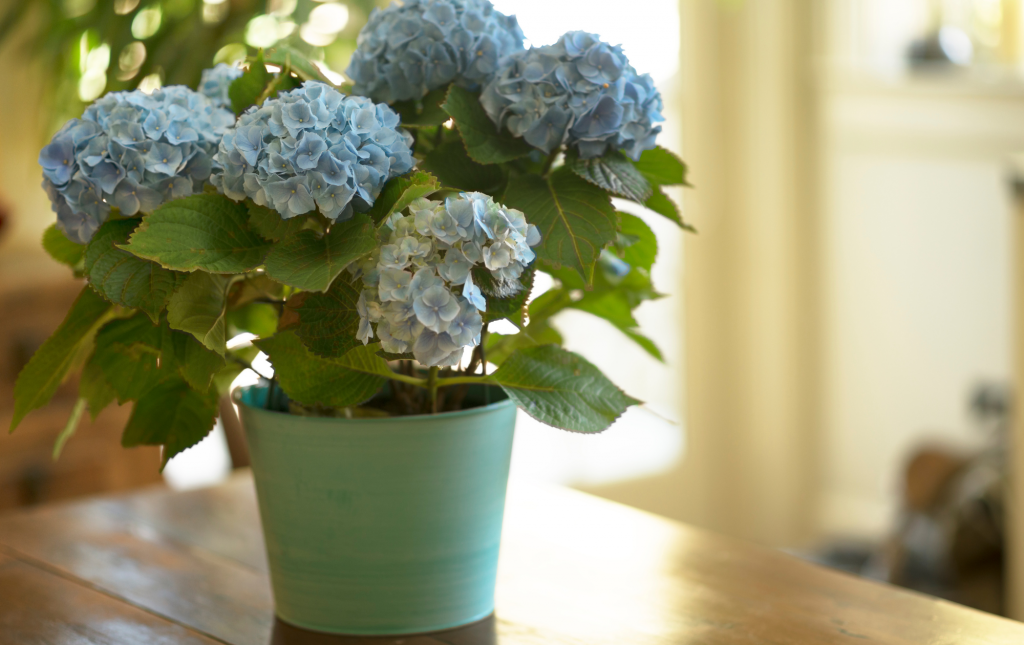 You are best growing your own hydrangeas as gift flowers tend to be less hardwearing. A well-looked-after hydrangea will come back every year. There are plenty of colours to choose from and it's the full clustered flowerhead and sage foliage that makes these plants so appealing.
Hydrangeas can be grown indoors in jugs, lined baskets, pots and even tin buckets for a shabby-chic look.
Dried Flowers
Dried flowers have become a popular choice for the eco-conscious as they last up to three years making them far more sustainable than cut flowers. However, dried flowers are trending for many more reasons.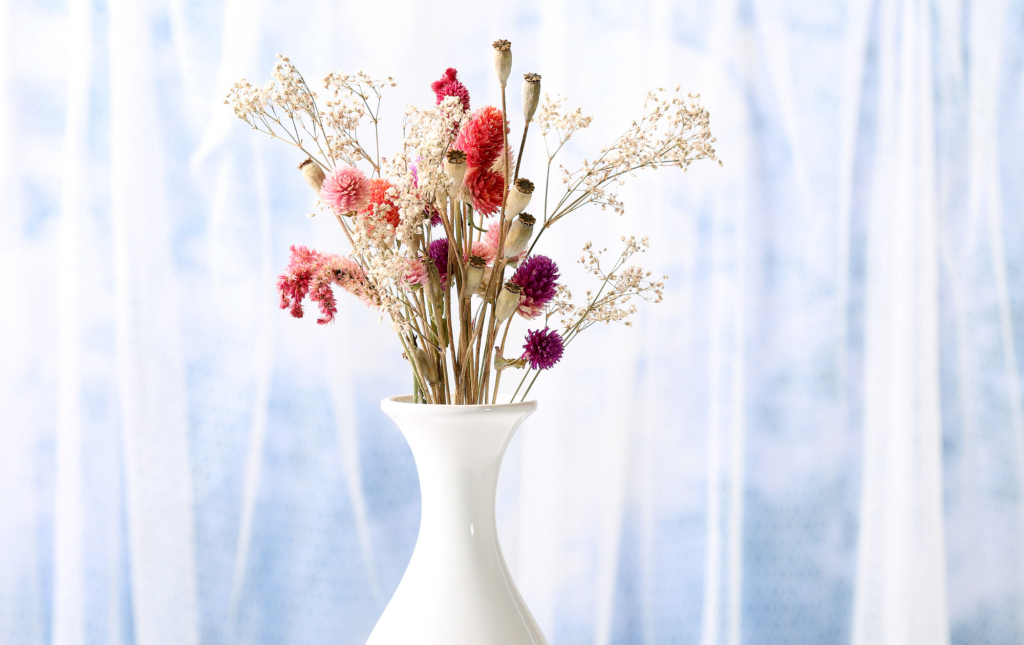 No longer do dried flowers mean brittle brown sticks. Flower preservation has become an art form that brings something new and unique into your home. With all sorts of shapes, styles and colour palettes, the choice is abundant. Dried lavender brings a dreamy quality and preserved roses and peonies have a vintage feel. For a more understated dynamic look though, go with yarrow, natural cotton stems or bunny tail flowers.
Dried flowers can be bought in bouquets or, if you're feeling creative you can either preserve flowers yourself or buy individual stems to devise your own arrangement.
Since dried flowers need no care, they can be kept in vases without water and, with no need for sunlight, can be placed anywhere in the house. Although some may last a little longer is specified conditions. Dried flowers mean no more sad feeling when flowers start to drop and no more pungent turning of scent to stench. 
Preserved Eucalyptus
For an intense green showstopper, look to the preserved eucalyptus trend. Since the colour stays so rich and the leaves so perfect, it can be difficult to tell a preserved from a fresh home flower display. Furthermore, Eucalyptus retains its scent when dried and can last several years.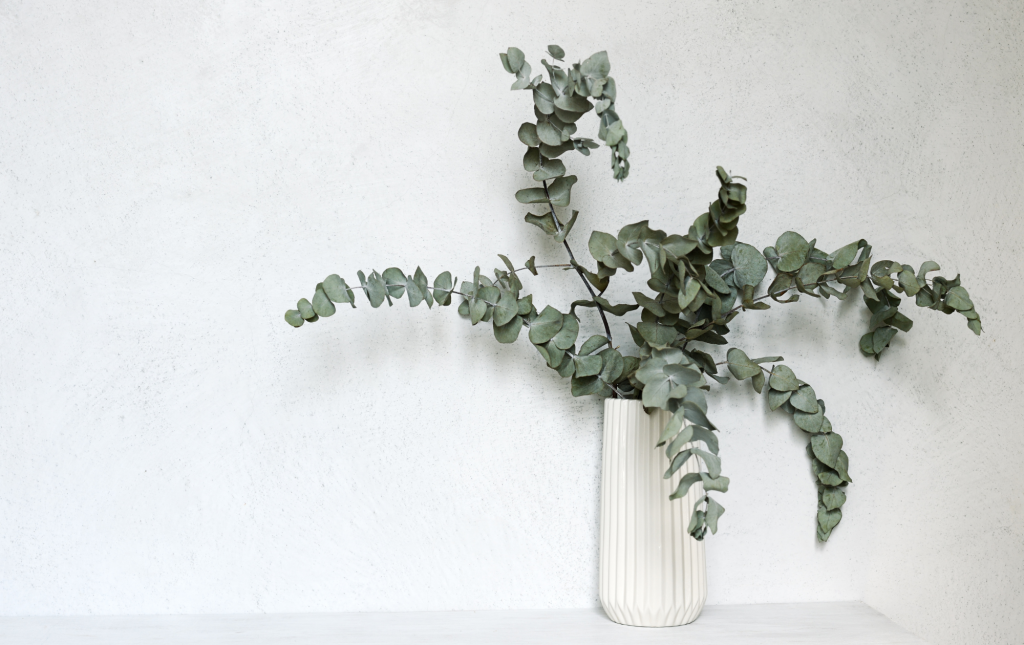 Due to its healing properties, eucalyptus is often found in bathrooms. Again, though, since preserved eucalyptus doesn't require watering, you can display it in any room to bring in that rich forest colour and scent without the concern of forgetting to care for it. Although, if you want it to last longer keep it out of direct sunlight.
Preserved eucalyptus is so on-trend that there are plenty of suppliers to choose from. Look for eucalyptus preserved with glycerin as opposed to harsh chemicals. For that rich sage green to steal the show, opt for a very plain vase, preferably in white or clear glass.
Pampas Grass
Dried pampas grass began trending on Instagram in 2019 but it's not the first time it's been a sensation. Pampas was also very popular in the 1970s, in the garden and for home flower display. As we are seeing many 70s fashions and styles reemerging, it's no surprise that pampas grass is experiencing a renaissance in the 2020s.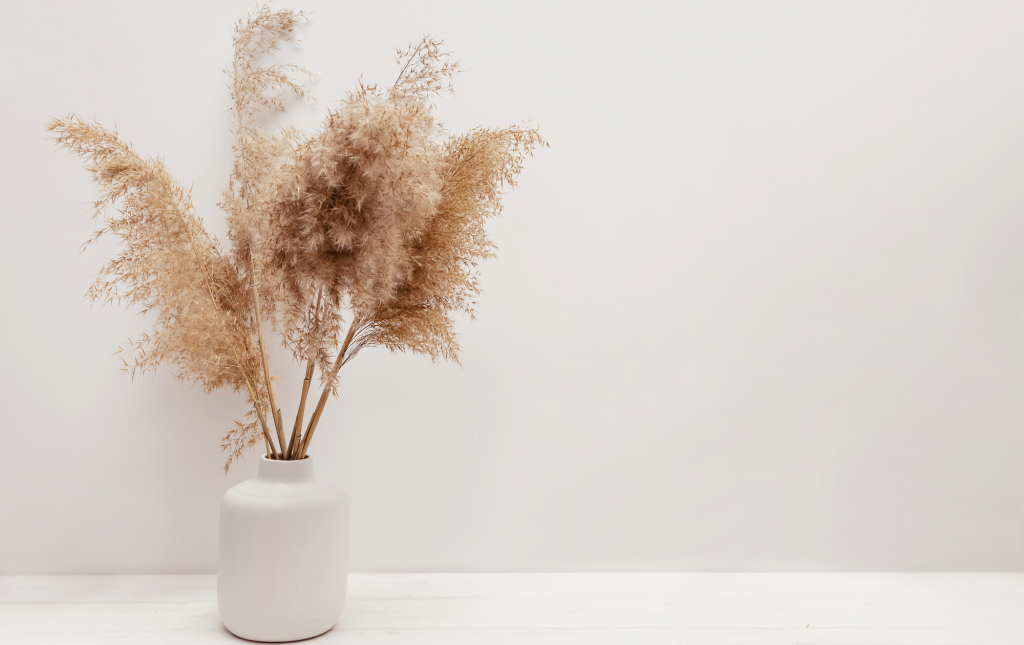 Dried pampas grass is very affordable, especially when you consider how long it lasts. It can also be sustainable if ethically sourced. In the US and Australia, the popularity of pampas has led to a rise in growth and seed distribution, which some claim has led to the loss of some natural habitats, with the grass having taken over from other species. However, many ethical suppliers are taking measures to ensure this does not perpetuate. Many florists, such as Pampered Pampas, also keep their grasses all-natural so use no chemicals to treat the grass and treat the foliage with only natural dyes.
For that understated all-natural look, most home stylists opt for white or brown vases to display dried pampas grass in. The long stem of pampas grass also provides an option for taller displays in floor vases.
Domestic Cleaning Services For The House Proud
Whatever trends may come and go, a clean home is never out of style. Achieve that magazine cover home look with Haus Maids. Whether you need a spruce up every few weeks or need us to keep your home sparkling with weekly cleaning, we'd love to support you in making your home a haven. Get in touch with a Haus Maids domestic cleaner near you in Cheltenham, Bishop's Stortford, Winchester, Fleet, Farnham, Alton, Milton Keynes or Guildford and Godalming.