Keeping a clean and tidy home is essential for maintaining a healthy and productive environment. However, cleaning can be a time-consuming and tedious task, especially for those with busy schedules. That's where hiring a professional cleaning company such as Haus Maids can be a great solution. Here are a few reasons why employing a cleaning company is great:

Saves Time and Energy:
One of the biggest advantages of hiring a cleaning company is that it saves you time and energy. Professional cleaners have the skills and tools to clean your space quickly and efficiently. Instead of spending your precious time cleaning, you can focus on other important tasks or simply relax.
Consistent and Thorough Cleaning:
Professional cleaners are trained to clean every nook and cranny of your space thoroughly. They use high-quality cleaning products and equipment to ensure that your space is spotless. With a cleaning company, you can expect a consistent level of cleaning each time they visit.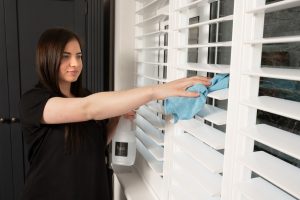 Bespoke Services:
Cleaning companies such as Haus Maids offer bespoke services based on your needs and budget. Whether you need a one-time deep clean or regular cleaning services, they can tailor their services to meet your requirements. You can also request specific cleaning task as needed.
Healthier Environment:
A clean and hygienic environment is crucial for maintaining good health. Professional cleaners use products and methods that are effective at removing germs, bacteria, and allergens. This helps to reduce the spread of illnesses and allergies, making your space healthier for everyone.
Increased Productivity:
A clean and organised environment can boost productivity and motivation. By hiring a cleaning company such as Haus Maids, you can create a space that is conducive to productivity. A clutter-free and clean space can help you focus on your work and be more productive.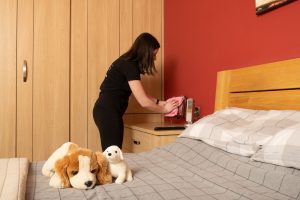 Peace of Mind:
With a cleaning company, you can have peace of mind knowing that your space is clean and well-maintained. You don't have to worry about keeping up with cleaning tasks or the stress of doing it yourself. Instead, you can relax and enjoy a clean space without the hassle.
To summarise, employing a cleaning company is a great way to maintain a clean, healthy, and organised home. With bespoke services, professional cleaners, and increased productivity, it's a worthwhile investment for any home. So, if you're looking for a stress-free way to keep your home clean, consider hiring a professional cleaning company today!
Our Cleaning Services
Employ Haus Maids to clean your home to benefit from all of the above. We have offices offering domestic cleaners in Farnham cleaners, Alton cleaners, Guildford cleaners, Godalming cleaners, Winchester cleaners, Bishop's Stortford cleaners, Cheltenham cleaners, Milton Keynes cleaners, Chandlers Ford cleaners, Bath cleaners, Fleet cleaners & Petersfield cleaners. Domestic Cleaning is undertaken by our fully trained, insured and equipped professional cleaners. To arrange your free in home estimate please contact your local cleaners office.