Love it or despise it, a good home clearout is needed at least once every couple of years. Sometimes a declutter is called for because you're moving and there's absolutely no need to be moving boxes of items you no longer need. Sometimes a home clearout is required because your lifestyle has changed in some way. Maybe you're working from home now and need office space? Maybe the children are growing up and it's time to let go of toys or clothes they've outgrown? Sometimes, we've just accumulated more than fits comfortably in our homes.

The big home clearout can be exciting – A new start. But it's a little daunting too. So, make yourself a cup of tea, sit comfortably, and heed some advice on taking on how to master the big home clearout.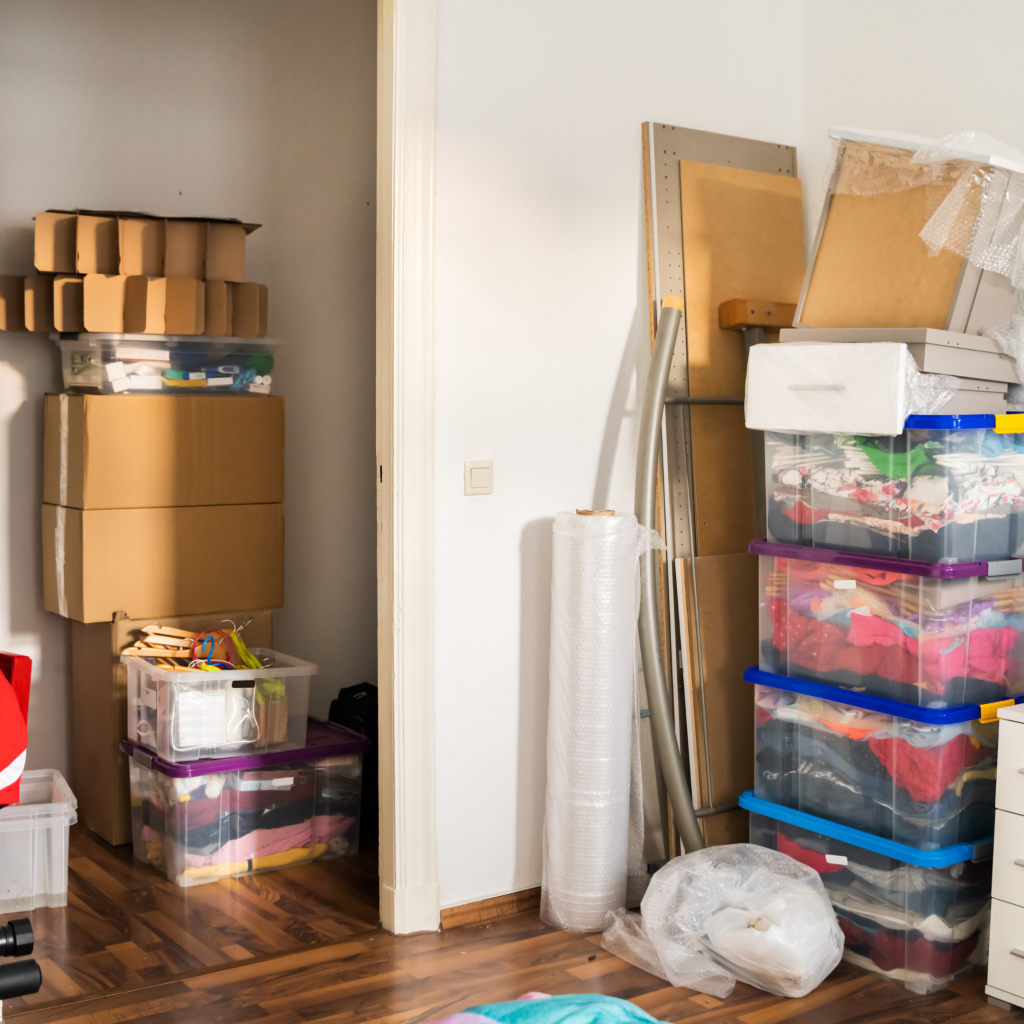 Don't try to do it all at once

Overwhelm hits when we try to do too much too quickly. Inevitably, the home clearout, as with so many other chores, is guaranteed to take longer than planned. So, whatever you do, don't empty all your cupboards and draws at once, determined to have it all completed by bedtime. Chances are you'll go to bed late with a messy house feeling in a worse situation than when you began.
We recommend tackling one room a day. Sundays are lovely for a good declutter because you can reward yourself with a good roast dinner and maybe even a glass of wine when the work is complete. Put aside a few hours one day per week and work through the house. This way, you avoid having charity-shop-destined bags cluttering up your hallway and the experience will be far less overwhelming.
Rethink storage space

We'd be hard-pressed to find anyone who'd say 'yes thank you I have more than enough storage space!' Generally, the more we have, the more we use. So, most of us are probably accumulating too many things. However, if you're struggling to find places for items you really need then it's worth spending some time researching storage solutions.
Pinterest is a great resource for this but a quick Google Images search may give you some great innovative ideas. Many of which are surprisingly affordable. If you're considering buying more storage then we recommend keeping your finger off the buy button until you've had your declutter, so you know just how much storage you need.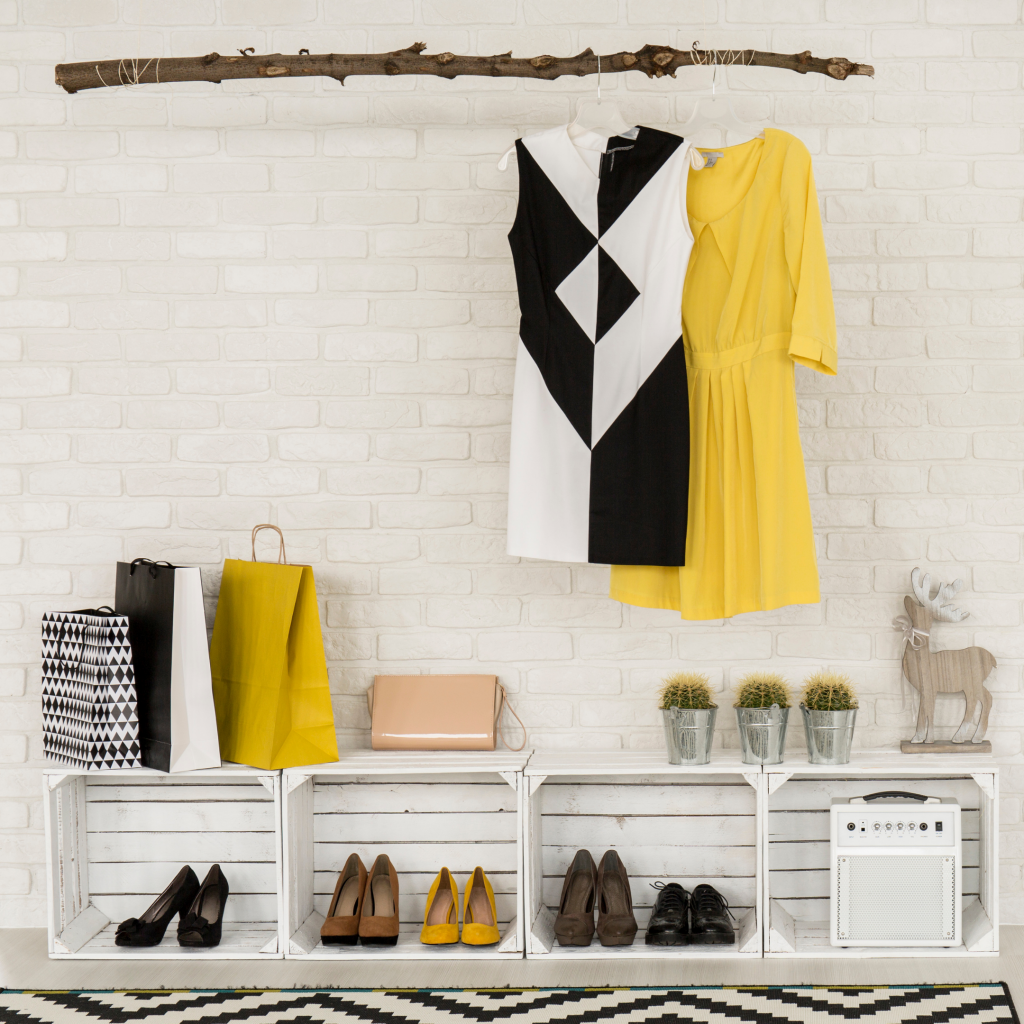 Move with the times

Are you still holding onto items of the past? Many of us still have boxes of CDs, DVDs and even old phones that we'll never use again but haven't been able to get rid of. It may not seem like it now but it's highly unlikely you'll miss these items when they're gone. What's more, you'll be very glad of reclaiming the space they take up.
Some of us hold onto such things because we aren't sure of how to get rid of them responsibly. As many people are streaming their music and entertainment now, some charity shops are no longer accepting discs. The good news is that CDs and DVDs can be recycled. However, you shouldn't put them in your recycling bin so it may require a trip to your local recycling centre and we advise checking your items are accepted there before you travel, since each centre has its own rules.
Be realistic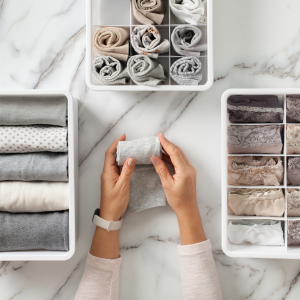 It's not easy to let go. We all have a draw or cupboard with clothes we intend to alter, or craft kits we intend to master. Most kitchens have gadgets, such as homemade pasta machines, taking up space because we're abatement we're going to get round to using them. Or the guitar in the corner of the room that we have to explain over and over to guests that we haven't actually learnt to play yet.

We lead busy lives and it's ok to give yourself a break and accept that, if you haven't used something in over a year, perhaps now isn't the right time to have it. Trust that this doesn't mean you won't become an Italian culinary expert or a belated rock star, at some point. But in the meantime why not use the space for items you need or ones that will bring you joy right now?

Finding new homes for these items, using Facebook Marketplace, Gumtree or having a stall at a local boot sale can help you to let them go. Knowing that these gadgets, clothes and objects are going to a home where they'll be more likely to be used, can feel really good. Plus, the cash doesn't hurt. 

Make memory boxes

Of course, there are some items that you absolutely shouldn't let go of, even during a really deep declutter. Some items bring back happy memories and often these aren't large or expensive. Often they're letters, cards, baby clothes, tickets or souvenirs.

You don't have to keep everything, and you shouldn't, but some items are called keepsakes for a reason. So create a memory box to keep these treasures in and store them in a safe place, away from damp and preferably high up on a shelf or on top of a cabinet.
Clearer surfaces

It's so easy to clutter up surfaces. Particularly in the bathroom and kitchen. There's a fine line between a 'lived-in' home and a messy home and having a home clearout can restore that balance.
It makes no sense to put away items you use every day, such as kettles, soap and toothbrushes. Totally clear surfaces are for showhouses, not homes. However, finding easy-to-access cupboard space for items you use less can really reduce clutter on your worktops, sinks and around the bathtub.
Less clutter on surfaces makes them far easier to keep clean and it can also help you feel calmer. Clearer homes are less overwhelming to our senses. So more open spaces on shelves and countertops can actually have a positive effect on our general wellbeing.


Don't go it alone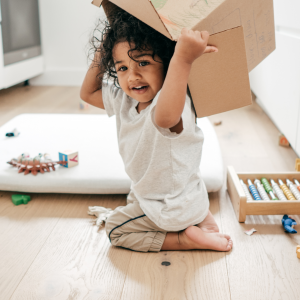 There can be something very therapeutic about putting on the radio and reorganising your home yourself. Taking it upon yourself to restore order can be empowering and even stress-relieving. However, during the decluttering process, you're going to have to make a multitude of decisions and that's quickly going to become overwhelming quickly. We strongly advise recruiting some help for at least part of the workload. Whether that's a partner, parent, friend or even the kids.
Choose someone who will be honest with you and tell you that those artificial flowers don't look real and that you're never going to make your own candles or set up the Scalextric. We suspect you'll be far more realistic and have far more fun too.
If you have children then it's likely that a fair amount of what needs sorting out belongs to them. There are two approaches to dealing with this and it depends on your children's personalities and ages.

It may be wise to initiate the purge whilst younger children are out of the house. You'll want to stake your bets that when they return they really won't notice those toys they never play with are gone. Or, you can involve your children in sorting through their bedrooms and creating a clear-out pile. Incentives can be used to encourage this. You may choose to use the opportunity to teach your children about giving by donating their old toys and clothes to children more in need. Alternatively, they can explore their industrious sides by setting up a stall in their neighbourhood or at a local boot sale, to make some pocket money from their preloved items.
Follow up the home clearout with a cleanup

When all the hard work is done you deserve to be able to put your feet up and survey your sparkly kingdom. The problem is, a good home clearout usually disturbs a fair amount of dust and reveals surfaces and spaces in need of a good scrub.
After all the heavy lifting, why not treat your home to a professional clean? A spring clean is going to make all that hard work worth it. Book a one-off spring clean today with Haus maids, for a cleaning service that takes as much pride in your home as you do. Let us get your newly organised home sparkling clean and feeling fresh.
We offer cleaning in the following locations: