Arguably, children's bedrooms present the biggest issues in terms of organisation. Although it often seems that our kids have a lot more stuff than us, their rooms tend to be the smaller ones and – let's face it – few of them are particularly houseproud. Keeping the kids' rooms tidy isn't just about being neat and making things accessible, it's also about laying foundations to teach children to clear up after themselves, and to do this effectively you can't make it too difficult for them. If your storage solutions are too complex then you'll end up taking over, picking up toys and hanging up clothes at bedtime instead of reading to them and having that last cuddle time with your little one(s).
In this guide to the best kid's toy storage hacks, we'll aim to introduce you to some potential toy storage solutions. We'll also share some more general advice regarding how to approach organising your child's room and getting them to help you keep it that way.
Top Tips For Organising Children's Bedrooms
Keep everything within reach – Not only will children not be able to tidy toys away if storage or shelves are too high, but they could also endanger themselves trying to reach them. One of the reasons that finding storage space in children's bedrooms is challenging is that everything they may want to access must be at their height. This doesn't mean you can't store things up high but make sure it's the boring things that won't be of interest to them – spare bedding, towels, suitcases, etc.
Don't expect too much – It's reasonable to start to get children to tidy up their toys when they're physically able. What we must learn to let go of is the need for perfect rows in size order or neatly arranged desks. Baskets, for instance, are not a way adults would usually store their things. However, for children, they're ideal as they enable them to scope up their belongings and store them away – tip out then dump back in. This is the level of tidying that is reasonable for a child under 10 years.
Use labels – Labels will help remind children of what goes where but they will also help young children begin to recognise new words. Sticky labels are not ideal for furniture but you could makeover chests of draws by painting them with chalk paint and writing chalk labels for the 't shirt' drawer, 'jumper' draw, 'socks' draw, etc. You can also get chalk labels and these are versatile as you can change what is written on the label as your child grows and their toys and possessions change.
Positive feedback – Most people aren't born wanting to tidy up the world. We learn as we go that putting things in designated places makes life easier and that living in tidier environments is calming. This is all learnt behaviour and so positive reinforcement is essential. Lots of 'wow, look how lovely your room looks now,' and 'see, now all your art things are in one place,' draw a child's attention to what they've achieved and why.
Be creative – Whilst it can be tempting to run out and buy storage units, plastic boxes and a desk tidy, many of us already have things in our homes that can help. Old coffee jars are perfect for keeping pencils handy on a desk and changing tables don't need to be thrown out after toilet training because they provide great storage for multiple uses. Creative solutions can save you money and upcycling or repurposing existing items is better for the environment too.
It doesn't have to be designed for kids – Sometimes storage not particularly meant for children is just as good or even better. Don't restrict your search to the kids' departments and don't disregard storage units and boxes you have because they don't have child-appealing designs on them. Too much pattern can result in a room being overstimulating anyway. 
Best Storage Solutions For Kids' Bedrooms
We're excited to share some of the best storage solutions for kids' bedrooms, based on what is practical and saves on space. Although we include pictures and links to some products, these are for the purpose of examples only as we do not endorse any particular products, only recommend certain styles and approaches over others.
A Place To Play
Keeping playtime to a specific(ish) area makes it far easier to keep the kids' bedroom tidy. This can be done in several ways depending on space. In a large room, having a rug or playmat is a great way to create a floor play space. You'll then want to position a big toy basket close to the rug so they can create some chaos, in a manageable area. If you have toys in every corner of the room then the chances are that they will be pulled out of every corner of the room. Having a floor play space can limit the spread and it helps to keep them in that 'play zone' in a mindful way.
For smaller rooms, we can be a little more creative. Mid-sleeper beds with playspace are ideal for making the most of the floor. Furthermore, the 'under-the-bed' space can feel almost secretive and helps to stimulate the imagination too, due to its cave-like quality.  
Alternatively, you might choose a mid-sleeper with a desk built in underneath. This makes a lot of the space and establishes an area for a child to paint, draw, or, when they're older, do their homework. A desk can be a more versatile and therefore longer-lasting piece of furniture than the play tables parents of toddlers often opt for. Play tables are often only used for a year and the right desk can be used by children from toddler age through to the teenage years.
Really clever cabin beds have stairs that have draws built-in too. With no space wasted these are well worth a look and, although they can seem pricy, if they are a replacement for a desk, bed and chest of drawers then they can actually be quite cost-effective.
Having zones in a child's bedroom can help to keep it more organised. However, there are plenty of other reasons to do this. Nurseries and schools have zones in their classroom for a reason. Designated areas assist children in transition to the right mindset for each different activity. So, if you have a play rug, perhaps have a beanbag and bookshelf in one corner as well, and make that the 'reading' or 'chill' zone.
Toy Storage Solutions
Although we often think of soft toys when we picture what children have in their rooms, it's actually the lego-type plastic play sets that are tricky to put away properly. Keeping all the pieces together is essential and, just to make it trickier, those pieces are usually all different sizes too. Big basket storage is excellent for young children as toys tend to be larger (and louder). For future-proofing furniture though you may want to consider basket storage shelves. This way you can further categorise the contents of each basket. These basket storage shelf sets usually come with shelf space too and even a seat or top to play on.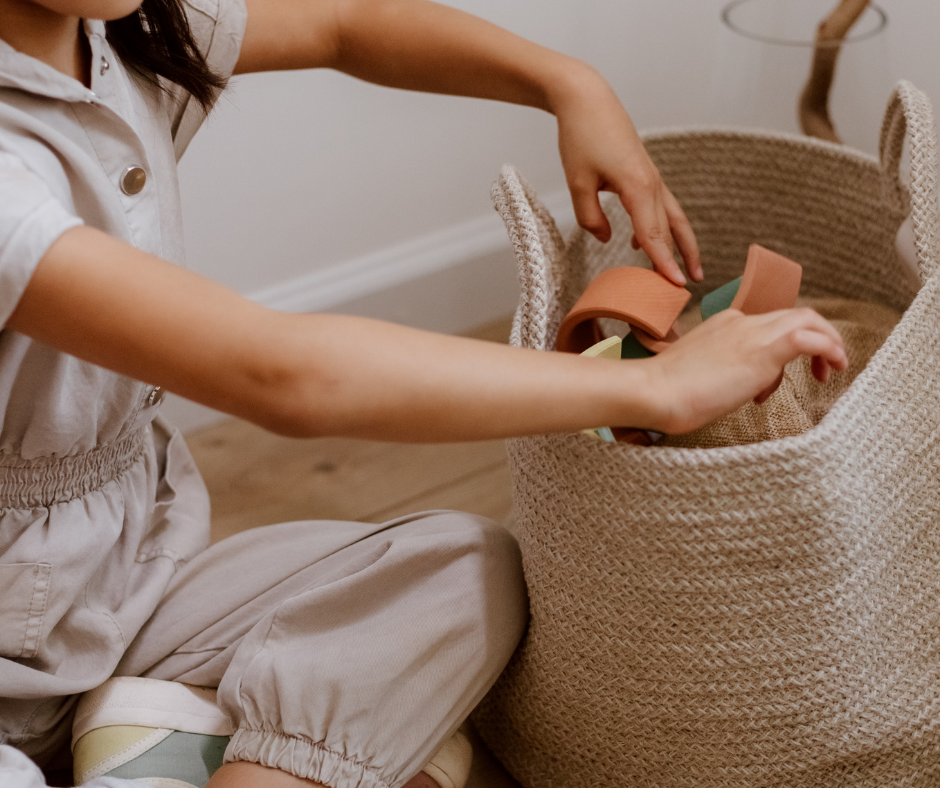 For soft toys, toy hammocks are lovely and they get those teddies high up so you use that waste space, but it's not something a child can climb on.
Vertical storage nets are another solution although these do take up a lot of space if you consider they need room around them. They also benefit from being in a corner which could be used for a storage unit that makes more of the space.
Children's Book Shelves
There are a few options for children's book storage. The issue is that many of them drastically underestimate how many books a child may have and hold on to. Ok, some children read more than others but there aren't many children who don't re-read books, especially ones from their early years that were particularly special. Let's be honest – you're not ready to give up those first stories either. Yes, you can opt for those discreet, neat, modern slim shelves which look great but you are likely to run out of space very quickly. Those childhood years pass fast and before you know it those 10-page picture books will become Harry Potter collections and those 10cm deep shelves aren't going to help you much.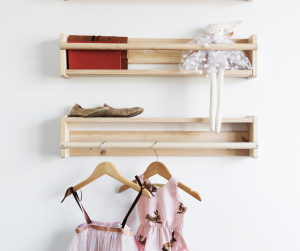 So, what are your other options?
Desks with in-built bookshelves are a great solution that makes use of potentially wasted space. This is one of those cases where you might be better off buying a small adult desk rather than opting for a child's desk which tends not to come with in-built storage.
Another option is just to opt for a bookcase or furniture that can accommodate more books and possibly toys, arts and crafts sets and other children's things too. Something versatile, like this one that will last your child for years:
Smaller 
Toy and Clothing Storage Solutions
Little things make a big difference, especially in terms of organisation. Make sure you're making the most of all the space a children's bedroom has to offer. Such as space under the bed, where baskets can be used to keep clothing or smaller toys. In our experience, this can lead to things being thrown under the bed rather than placed in the baskets or boxes but we'll leave you to police that.
Hanging bed organisers are wonderful for storing items you need to keep close at bedtimes, such as a book, teddy and maybe a night light or torch. They also provide a place for the things that help a child get into the right mindset for bedtime, so it's another case of having a storage space for a specific activity.
We've also seen back of door shoe rack hangers used for soft toy and doll storage in children's bedrooms. These pockets are perfect for helping children put their toys away neatly and easily and don't take up potential playing space.
Cleaning Children's Bedrooms
Of course, whilst you can help a child keep their room organised and tidy, it still needs to be cleaned and that's where we come in. Haus Maids operate in Cheltenham, Bishop's Stortford, Winchester, Fleet, Farnham, Alton, Milton Keynes and Guildford and Godalming and we love working with families. We understand how busy life is with young children and we aim to take some of the workload off your shoulders. Get in touch to find out more about our domestic cleaning services.